St Augustine Amphitheatre | Augustine, Florida
Fans of jam and improv, the St Augustine Amphitheatre brings you an unmissable event on Saturday 29th April 2017. Umphrey's McGee, with special guests Big Something!! Tickets available now!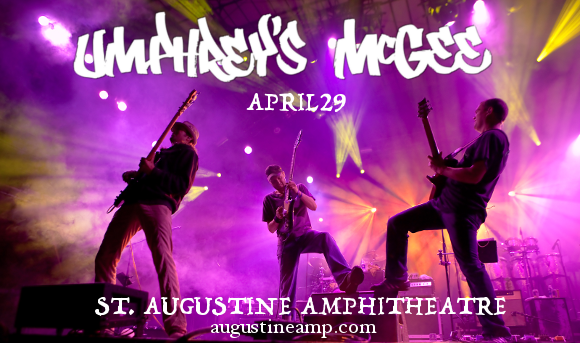 Originally from South Bend, Indiana, Umphrey's McGee is one of the best known acts on the jam music scene. The current 7-piece lineup is comprised of Brendan Bayliss, Joel Cummins, Ryan Stasik, Andy Farag, Jake Cinninger and Kris Myers. Their first major release, in June 2002, the amusingly entitled "Local Band Does OK," was put out the same year that they played the first annual Bonnaroo Music Festival to their largest crowd to date. They sold more CDs than all the other artists on the bill, beating the likes of Norah Jones, Widespread Panic, and Trey Anastasio!!
In the subsequent years, the band toured extensively, with over 150 shows per year, until they played the Jimmy Kimmel Live! show alongside Huey Lewis in 2006, promoting their then-upcoming release "Safety In Numbers". Once released, it was their first album to chart in the US Billboard top 200, peaking in the top 20 of the US Indie chart. 2006 was a very busy year for the band, with them performing at most of the major US festivals, totalling 129 shows for the year before a three-night run in Chicago for New Year's Eve.
Since then, the band have continued to perfect their live performance, which features intricate and lengthly improvised compositions that demonstrate the musician's versatility and prowess. No Umphrey's McGee show is the same! If you've never seen them, you must, and if you have, you must see them again!!