St. Augustine Amphitheatre | St. Augustine, Florida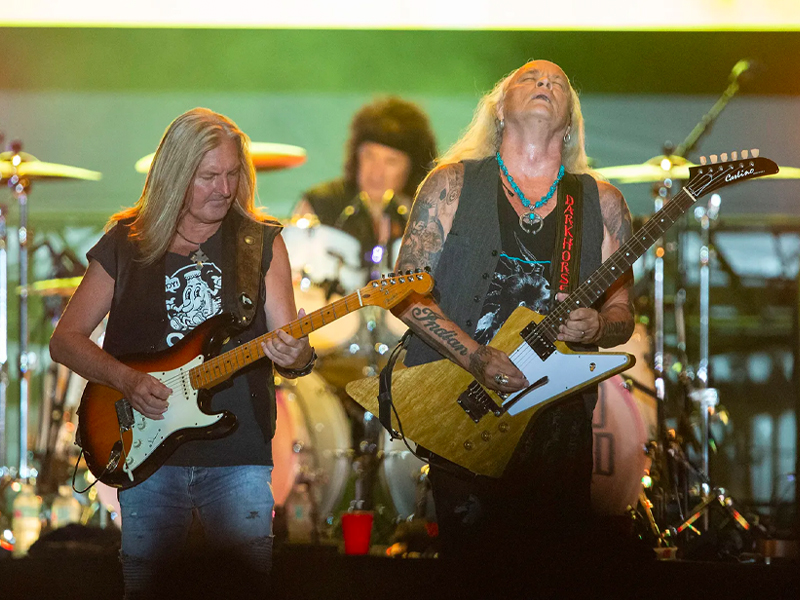 Are you ready to hear the classic hits "Sweet Home Alabama," "Free Bird," and "Simple Man" being sung amidst the scenic and picturesque setting of the iconic St. Augustine Amphitheater? Well, you've come to the right place because you can reserve your tickets for the two-night concert of the one and only rock legend Lynyrd Skynyrd. Yes, you've read that right. The Rock and Roll Hall of Fame inductee will set the famous Florida venue on fire with their timeless hits and electrifying energy. The Southern rock band celebrates their 50th anniversary this year, and the tour would not be complete without visiting the Sunshine State. After all, Lynyrd Skynyrd is one of the recipients of the esteemed Florida Artists Hall of Fame award. Come for the music and stay for the camaraderie among fellow fans, who, like you, are in for a magical evening filled with head-banging staple hits. Catch Lynyrd Skynyrd on this first night this October 5, and be part of a golden celebration. Tickets are now for grabs. Score one for you and your concert buddies by hitting the "Get Tickets" link.
Lynyrd Skynyrd is the definition of Southern rock. In fact, they put Southern rock on the mainstream scene. With a mix of blues and hard rock and anthemic Southern swagger, they dominated and broke boundaries. Their influence on the rock scene is huge, and they are appropriately celebrated. With 14 albums under their belt, the band is still as relevant as they were more than 50 years ago.
Lynyrd Skynyrd was first called My Backyard when the band formed in 1964. The establishing members were lead vocalist Ronnie Van Zant, guitarist Gary Rossington, guitarist Allen Collins, bassist Larry Junstrom, and drummer Bob Burns. Five years after performing in small venues, they rebranded to Lynyrd Skynyrd. They then began to gain momentum at the start of the 70s. By 1973, they officially debuted their album "(Pronounced 'Lĕh-'nérd 'Skin-'nérd)." Their sophomore "Second Helping" was a stratospheric success. It put their name in the public's consciousness. The track from the album "Sweet Home Alabama" was their most successful. This song continues to be a staple of radio stations. A song that is considered to be a go-to when listening to Southern rock music. They were at the top of the rock scene right after this. However, a tragic plane crash halted the band's career. The disastrous event took the life of Van Zant, Steve Gaines, and backup singer Cassie Gaines. Right then, they released five albums, all of which were critically acclaimed.
In 1987, the band warmed up for a return. At first, it was intended as a one-time tribute comeback. Due to public demand, they decided to make their waited return official. Ronnie Van Zants brother, Johnny, decided to lead the band with the remaining past members. In 1991, their sixth album Lynyrd Skynyrd 1991 came out. It was celebrated by fans. The band's legacy continued. They released eight more albums, with "Last of Dyin' Breed" being the latest, which came out in 2012.
In 2005 the band was inducted into the Rock and Roll Hall of Fame. Their story was also turned into a musical and a documentary. The legendary rock band will perform at the St Augustine Amphitheatre on Thursday, October 5. You should not miss this!