St Augustine Amphitheatre | Augustine, Florida
Folk-rock industry favorite, The Avett Brothers, is hitting the stage at St. Augustine Amphitheatre on back-to-back nights! Watch out for the encore on Saturday, 18th of March 2023 as The Avett Brothers serves their greatest hits, crowd-favorites, and recent material as they celebrate over twenty years of making music together. After releasing The Third Gleam last 2020, brighter days ahead are in store for the band as they enter a new year of opportunity, kicking it off with a series of shows this 2023. Catch The Avett Brothers live on stage by booking your tickets now!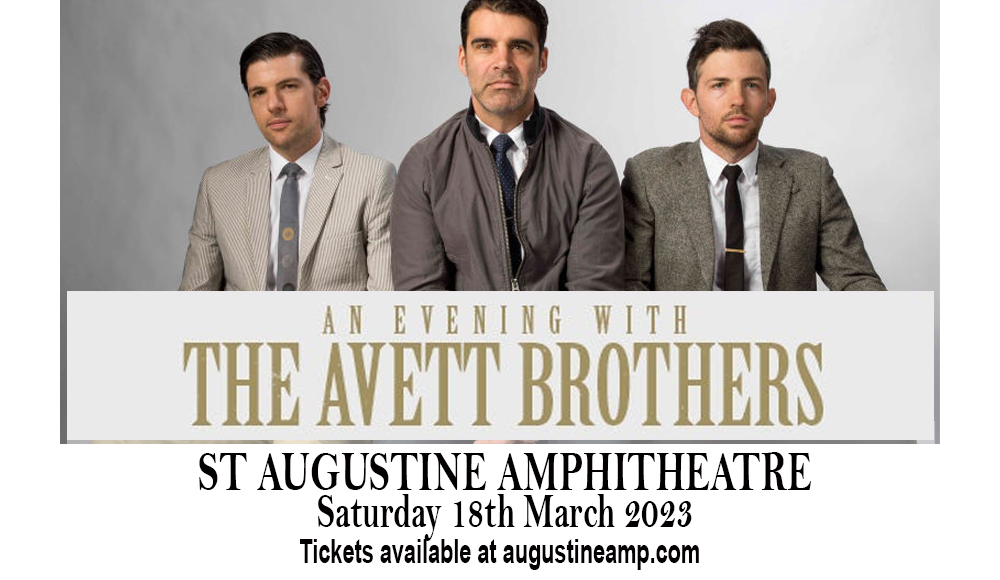 Three-time Grammy Award nominee The Avett Brothers have taken the world by storm with their breakout sixth studio album and major label debut, "I and Love and You". The album featured their singles "Head Full of Doubt/Road Full of Promise", its title track, "Slight Figure of Speech", and "Kick Drum Heart". From then on, the band won the hearts of listeners around the globe for their lyrical masterpieces, alluring melodies, and authenticity. As the folk-rock brothers gear up for a new year of music and live gigs, The Avett Brothers rolled out a series of shows this 2023, including back-to-back nights at St. Augustine Amphitheatre on March 17 and 18.
Having played music together since their childhood, and having a journey of high school bands playing together, the Avetts, later on, found themselves collaborating together for years to come. 5 records in, The Avett Brothers found their lucky shot with a major-label deal and a hit label-debut album "I and Love and You", selling over 500,000 copies.
Spending a lifetime playing music, and a journey of over twenty years as The Avett Brothers, the siblings and their band released the third installment to their Gleam EP series, The Third Gleam. Featuring its crowd-favorite single "Victory", the record was supported by drive-in concerts at the Charlotte Motor Speedway amidst the global pandemic.
With a new record that takes listeners back to The Avett Brothers' roots, one can see their growth and artistry as you take a look back on their discography.
Don't miss out on The Avett Brothers live on stage by booking your tickets now!