St Augustine Amphitheatre | Augustine, Florida
The three-time Grammy Award nominee, The Avett Brothers, are back on a tour, hitting the live stage at St. Augustine Amphitheatre for two spectacular nights, including this show on Friday, 17th of March 2023. Led by Seth and Scott Avett, the band became critically acclaimed for their 2009 record "I and Love and You" which shook the folk-rock scene. At the onset of 2020, the band returned with "The Third Gleam", marking over twenty years of making great music together. Don't miss out on The Avett Brothers' big return to the live stage across the country by booking your tickets now!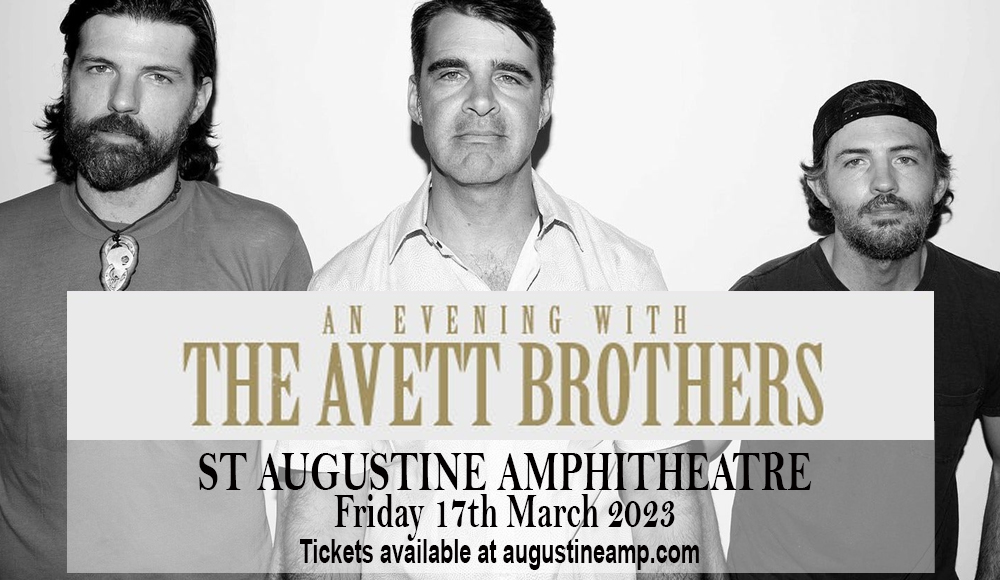 Taking the world by storm with a great breakout record "I and Love and You" in 2009, The Avett Brothers has been committed to producing music that stays true to their roots, with every record reminding the world why they fell in love with their craft. The three-time Grammy Award nominee is proud to present a set of shows as 2023 starts kicking in. With two nights at St. Augustine Amphitheatre on the 17th and 18th of March, fans are in for back-to-back sets of The Avett Brothers' greatest hits, fan favorites, and recent releases live on stage.
With a strong major label debut in 2009 for "I and Love and You" hitting #16 on the Billboard 200, featuring its hit title track and hit single "Head Full of Doubt/Road Full of Promise", The Avett Brothers followed it up with The Carpenter in 2012, hitting #4 on the same chart. The record featured another hit and fan favorite "Live and Die".
Winning the hearts of folk-rock aficionados and gaining mainstream recognition for their unique artistry, The Avett Brothers continues to serve their acclaimed honesty, striking lyrics, and alluring instrumentals that all create a sense of harmony.
In August 2020, the band released the third installment of their Gleam EP series. "The Third Gleam" explores their roots as the brothers and their bassist, Bob Crawford, served a series of songs that takes listeners back to the reason why they fell in love with The Avett Brothers. The record was supported by drive-in concerts at the Charlotte Motor Speedway amidst the global pandemic in 2020.
In October of 2016, The Avett Brothers was inducted into the North Carolina Music Hall of Fame. During this era, the band released their ninth studio album, "True Sadness", described as "a patchwork quilt, both thematically and stylistically." by Seth Avett. The album debuted at #3 on the Billboard 200, topping U.S. Folk and U.S. Rock charts as well.
In 2019, they released their most recent full-length album "Closer Than Together", featuring their singles "High Steppin" and "Tell the Truth".
Catch The Avett Brothers live on stage by booking your tickets now!