St Augustine Amphitheatre | Augustine, Florida
Pop rock and indie fans, look no further!! Legendary indie rock band Weezer are coming to the St Augustine Amphitheatre on Thursday May 4th!! Tickets are already fast disappearing, so don't delay in getting yours!!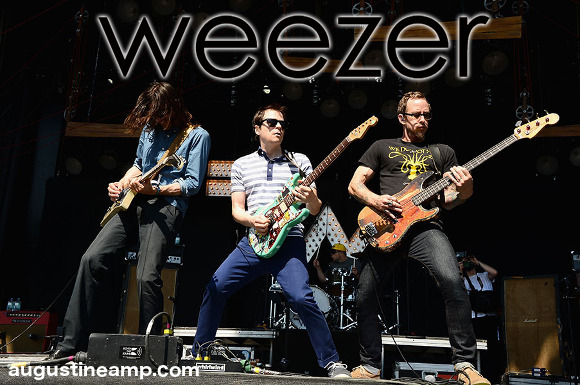 Consisting of lead vocalist RIvers Cuomo, drummer Patrick Wilson, bassist Scott Shriner and guitarist Brian Bell, Weezer were formed in Los Angeles in 1992. Signing to Gedden Records a year later, they released the "Blue Album in 1994. With hugely popular music videos, directed by Spike Jonze, for the singles "Buddy Holly," "Undone – The Sweater Song," and "Say It Ain't So," the Blue Album became a phenomenal success, reaching number 16 on the Billboard 200 and becoming certified platinum no less than 3 times by the RIAA – to date, the album has sold in excess of 3,300,000 copies!!
Their second album, "Pinkerton," in 1996, featured a harsher, darker sound that initially confused fans and critics, but later went on to achieve critical acclaim and cult status! Both albums are now frequently cited as some of the best offerings of the 1990s. Since then, the band have gone from one success to another, changing style all the while and constantly keeping fans on their toes! With 10 albums now in total, Weezer's latest release, "The White Album," in 2016, is a return to their initial rock sound, delighting fans who have been with them since the beginning. Set to come back again later this year with yet another brand new album, the band have released the first teaser single; "Feels Like Summer." Listen below – but don't wait about in getting your tickets to see the band live!!