St Augustine Amphitheatre | Augustine, Florida
Get ready for summer all year long as The Beach Boys brings the 'fun fun fun, surfin' across the country on a set of special tour dates, stopping by at St. Augustine Amphitheatre on Saturday, 25th of February 2023. Bringing along decades of timeless hits over 29 studio albums since their global domination in the '60s. As they continue to serve 'good vibrations through decades of rockin' hits to the live stage, make sure you don't miss out on The Beach Boys' tour by booking your tickets now!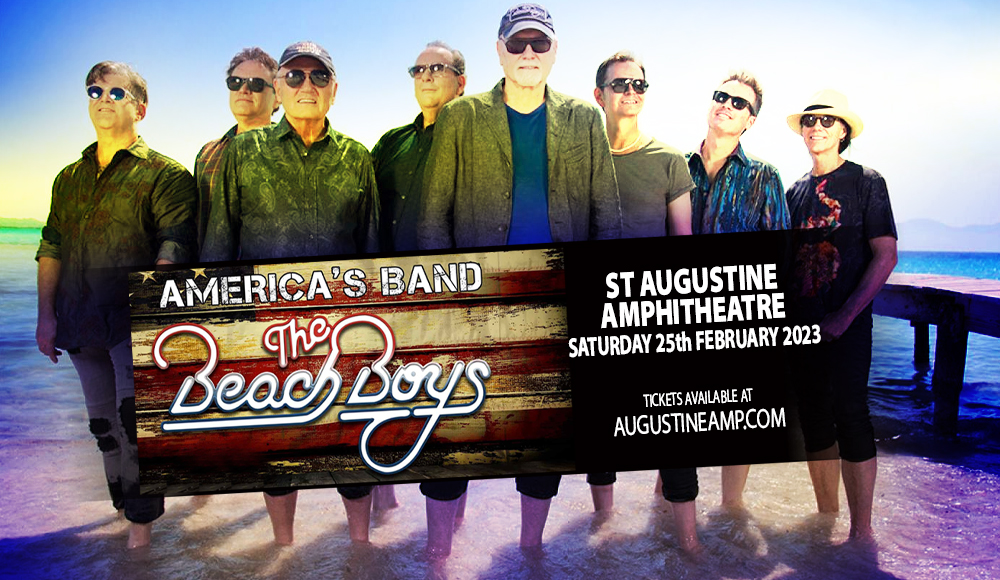 Set to celebrate decades of timeless hits with their very own fans across different generations, The Beach Boys are geared up to embark on a series of tour dates as they keep their legendary craft rockin' the live stage. Led by Mike Love and Brian Wilson, The Beach Boys' shows promises 'fun, fun, and fun, as they surf across the country, blessing every venue with their legendary masterpieces.
In an interview with The Telegraph, Mike Love, now 81, shares "What started as a family hobby became a profession, and a vocation. Not without challenges, changes, ups and downs. We lost a couple along the way. But we're still on the road, keeping those songs alive,"
"And maybe the songs keep us alive, too." he added. Formed by the Wilson brothers throughout 1958 to 1961, The Beach Boys have come a long way after their debut single "Surfin'" made waves in the West Coast, bankrupting the American indie label Candix Records due to a high volume of unpaid orders.
On a high summer feeling, the band went on to sign with Capitol, hailed as "teenage gold" by Nick Venet who signed the group. From then on, the band surfed through the charts, with their first top-ten single "Sufin' U.S.A." marking the start of their long run of success. Their sophomore album of the same name hit #2 on the Billboard 200.
As the band is gearing up for a special series of holiday shows before they kickstart a big new year for live shows this 2023, Mike Love shares that fans can expect "all of the hits associated with The Beach Boys. You'll hear everything from "Surfin' Safari" to "Kokomo" and all things in between, like "Good Vibrations."
As a band with rich history spanning decades of hits and global chart domination, The Beach Boys share that they are blessed to perform and keep these songs alive for generations to come.
"Yeah, it's great. It's a blessing to be able to do those songs, and people still love to hear them performed," shared Love. "And it's all generations, too. You have the old folks come out with their kids. And then their kids' kids. So, you've got three generations of family members."
Don't miss out on The Beach Boys live on stage by booking your tickets now!