St Augustine Amphitheatre | Augustine, Florida
After spending much of last year on the road together on the United We Rock Tour with REO Speedwagon, "Mr Roboto" rockers Styx & former Eagles guitarist Don Felder will be teaming up once more, heading to St Augustine Amphitheatre on Friday 13th April 2018 for a very special show that you'll be glad you didn't miss! A night of non-stop hits from these incredible musicians, this is rock music at its finest!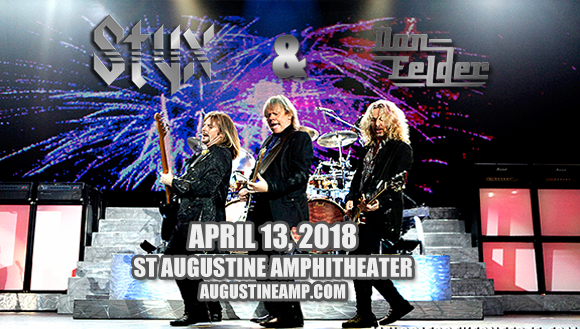 Formed in Chicago in1972, American rock band Styx had a plethora of hits throughout the 1970s and '80s, including "Lady", "Come Sail Away", "Babe", "The Best of Times", "Too Much Time on My Hands" and "Mr. Roboto". Other major hits include "Show Me the Way", "Don't Let It End", and "Renegade". With four consecutive multi-platinum albums, the band successfully transition from hard progressive rock to a more electronic pop-influenced sound over the years, launching 16 top 40 singles in the US, 8 of which hit the top 10. The Mission, the band's most recent album, is a concept album revolving around a mission to Mars and was released in 2017.