St Augustine Amphitheatre | Augustine, Florida
Styx, .38 Special & The Outlaws comes to St Augustine Amphitheatre on Saturday 14th May 2016
The best of times are here again as legendary and multi-generational pop-rock band STYX is making the rounds of various cities in the country. And as if they were not enough, Southern Rockers .38 Special and The Outlaws are also part of this sensational tour event.
Whether you're old-school or new school rockers, you'd definitely fit-in and have a grand time rocking' your heart out to the hit songs of STYX that have transcended the ravages of time. Lock-in your schedule and make sure you get tickets for this exciting event.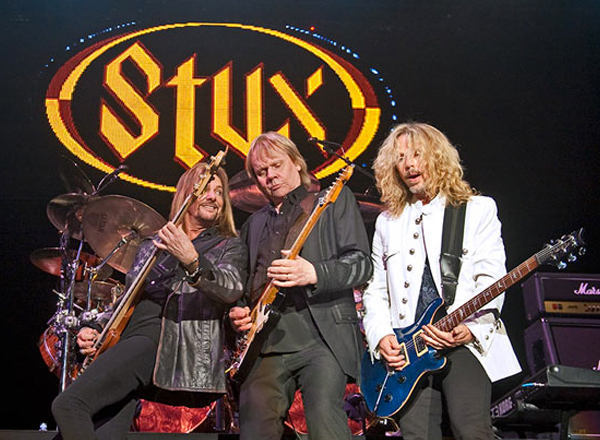 Chicago. Illinois circa 1970 — that's where it all began when twin brothers Chuck (bass guitar) and John Panozzo (drums) first got together with their neighbor Dennis DeYoung (vocals and keyboards) to form the beginnings of a band that we all know now as STYX.
After some band member changes and a few 'misses', Styx finally scored a Top 10 hit with 'Lady' in 1974. It took sometime before this was followed-up by their Top 10 charting album 'The Grand Illusion' in 1977. From the late 70s to the 80s, the band finally hit the goldmine, so to speak. Their most memorable Top 40 hits include: "Lady" (#6, 1973), "Come Sail Away" (#8, 1977), "Babe" (#1, 1979), "The Best of Times" (#3, 1981), "Too Much Time on My Hands" (#9, 1981) and "Mr. Roboto" (#3, 1983). Other hits include "Show Me the Way" (#3, 1990), "Don't Let It End" (#6, 1983), "Renegade" (#16, 1979) and "Boat on the River". They released a succession of chart-topping singles and albums that not only fired-up the charts back in the day, but these songs have lived and continued to influence musicians and fans from one generation to the next.