St Augustine Amphitheatre | Augustine, Florida
Continuing their epic touring tour de force after spending much of last year on the road together, Steve Miller Band & Peter Frampton are hitting the highways of North America once more, heading to St Augustine Amphitheatre on Friday 20th July 2018 for a mind-blowing showcase of exciting talent!
"2017 was an amazingly beautiful, creative and rewarding music experience for our band and our audience. The band and production crew are working on creating an even better concert experience for 2018 and plan on wading even deeper into the musical waters. Peter Frampton and I enjoyed last summer. There is so much to explore and we are looking forward to seeing our friends in Canada and the States soon." – Steve Miller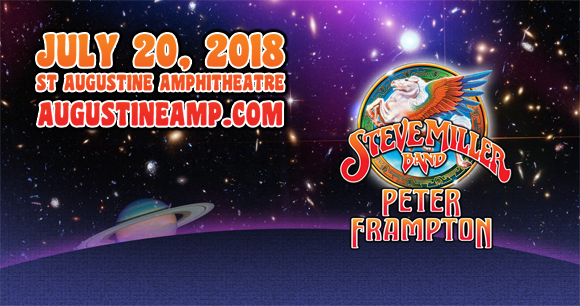 Starting his music career as a child singer, and then teen heartthrob as lead singer and guitarist of The Herd, Peter Frampton is a British-American rock musician, singer, songwriter, producer, and guitarist. Frampton went on to form Humble Pie with Steve Marriott of Small Faces, but, after four studio albums and one live album with the band, went on to forge his own solo career, debuting in 1972 with the album Winds of Change. However, it was Frampton's 1976 live release, Frampton Comes Alive!, that brought his solo work to a wider audience, selling 8 million copies and launching three hit singles. He has released twenty solo studio albums to date, and is best known for such hits as "Breaking All the Rules", "Show Me the Way", "Baby, I Love Your Way", "Do You Feel Like We Do", and "I'm in You".