St Augustine Amphitheatre | Augustine, Florida
Grammy Award-winning contemporary Christian rockers, MercyMe, is back on tour! The rockin' leaders of praise are hitting the stage at St. Augustine Amphitheater on Friday, 27th of October 2023 for their newest "Together Again Tour" with special guests Crowder and Andrew Ripp. Following successful runs at their ALWAYS ONLY JESUS tour in support of their new record, MercyMe is set to continue holding rockin' nights of praise and worship. As their newest song "Then Christ Came" praises how lives changed after Jesus came back, the band is stoked to lift its praises high as they come together at the Together Again Tour. With a roster of hard-hitting praise and worship hits along with new tracks off of ALWAYS ONLY JESUS, MercyMe is set to continue serving music and worship nights dedicated only to Jesus. Come together back at the altar led by MercyMe at their Together Again Tour by booking those tickets now!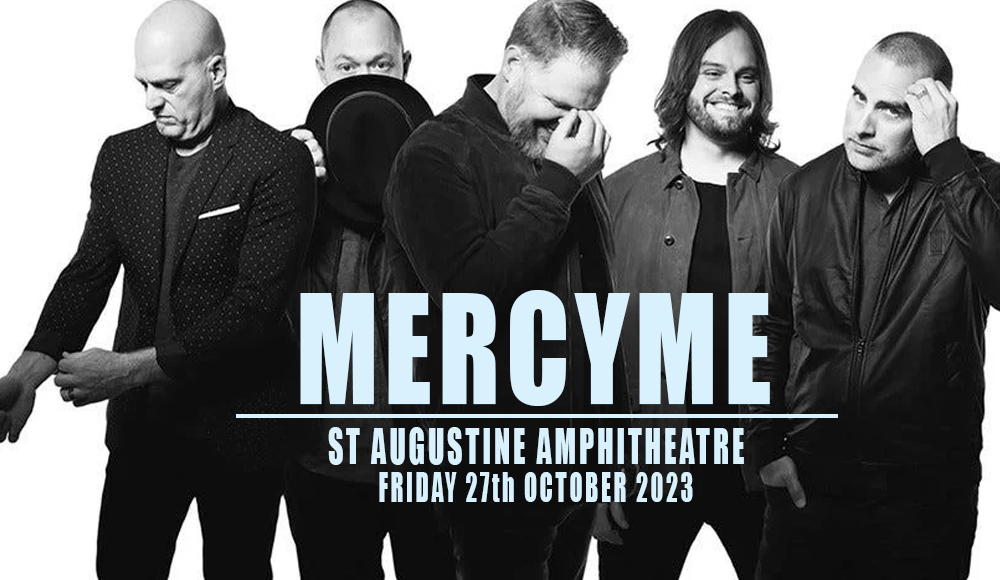 As MercyMe's new album, ALWAYS ONLY JESUS, graced through airwaves and live nights of worship across the globe, the band is back to come together for another trek of worship nights at the just-announced "Together Again Tour". Set to perform its new rockin' praises and crowd favorites, the tour is bringing along special guests Crowder and Andrew Ripp. The Together Again Tour invites believers to come together for rockin' nights of praise and worship across 16 cities this October including a stop at St. Augustine Amphitheatre on October 27th.
The tour follows the band's supporting tour trek for ALWAYS ONLY JESUS. The album features MercyMe's No.1 hit anthem "Then Christ Came" which was a special song that took 2 years to complete. "The message of this song is simple in that it's about who I was before, and then Jesus showed up," shared lead vocalist Bart Millard. "And now everything has changed. We love how it turned out and hope you like it, too!"
The album also features the band's new single "To Not Worship You", reminding believers about remembering who God is amidst doubt and struggles. "I think with this song, I better realize what being still and knowing that He is God means," Millard shared, explaining how people tend to not take a pause when facing doubt or questioning life. "When you take the time to remember who God is, then it's easy to ask, 'who are we to not worship him?"
Indeed, who are we to not worship Him? Whenever doubt comes or struggles arise, MercyMe's music has always been a steadfast reminder of who Jesus' is in our lives. "We may not agree on anything else, but we all agree that it's 'Always Only Jesus'," shared Mike Scheauchzer. "That's why the album feels like anthem after anthem after anthem because they are all definitive statements about Jesus."
With 11 studio records, 9 of which hit the top spot in Billboard's Top Christian Albums chart, MercyMe has a track record of notable praise hits that churches and believers around the globe continue to use to exalt Jesus' name. Their hits and church favorites include "Word of God Speak", "In the Blink of an Eye", "So Long Self", "Greater", "Shake", "Grace Got You" featuring John Reuben, "Say I Won't", and "Even If".
Having been in the ministry since 1994, MercyMe is globally recognized for its service through the power of music. Recalling how blessed they are to be able to tour once again after the release of their 10th album "Inhale (Exhale)" in 2021, "it makes us step back for a second and have these moments of gratefulness and we just think it's amazing that we're still doing this," Nathan Cochran shared, cited from Shreveport Times.
As the band serves an encore tour with Crowder and Andrew Ripp this October, make sure to save your spots for a rockin' night of praise and worship at the Together Again Tour by booking your tickets now!
"For where two or three are gathered together in my name, there am I in the midst of them." Matthew 18:20