St Augustine Amphitheatre | Augustine, Florida
The two-time Grammy Award-winning contemporary Christian artist, Lauren Daigle, is coming right back to the live stage as she plays a series of shows this fall. The woman behind hit songs of praise "Hold On To Me", "You Say", and "How Can It Be" is calling all believers to the altar at St. Augustine Amphitheatre on Wednesday, 2nd of November 2022 for a night of praise and worship. The show promises to lead the crowd into praise and worship with her biggest hits and new music that she hasn't performed live yet. As live music makes its big return to concert venues around the world, why don't you come right to the altar and lift your praises high as Lauren Daigle leads you and the crowd on a special night of praise and worship. Book your tickets now!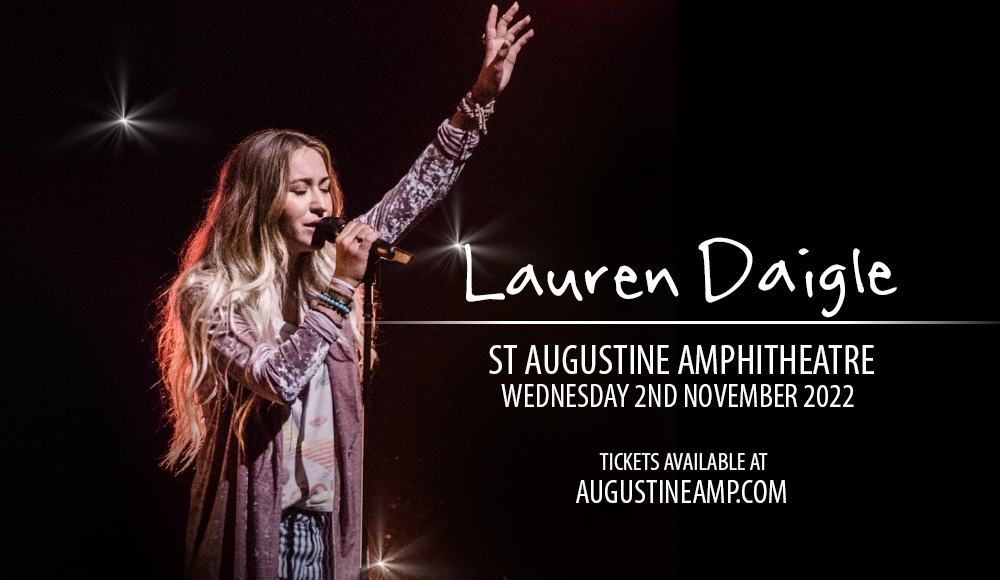 Excited to bring praise and worship back to the live stage, the Grammy Award-winning, and multi-platinum contemporary Christian artist Lauren Daigle is bringing her crowd-favorite and award-winning catalog live on stage, and some never-before-performed new music. The "You Say" singer is set to lead believers on special nights of lifting their praises high in a series of shows this fall.
"I'm excited to get back out on stage," she shared. "Playing live is what it's all about for me – feeling the music, sharing the moment – just letting go. It'll also be fun to see how everyone responds to some of the new music we've been working on. It's going to be a blast!"
Lauren grew up in Louisiana, with her mom calling their home as "the music box" because she'd find Lauren always singing. Contracting cytomegalovirus at 15, Daigle took voice lessons and found this to be her main creative outlet while her condition kept her out of school for two years. She also took her shot in the singing competition TV show American Idol but wasn't able to make it far into the show. Though that didn't stop Lauren Daigle from chasing her calling as a singer who would influence and bless the hearts of believers around the globe.
In 2015, Daigle released her debut album "How Can It Be" which topped the Billboard Christian Albums Chart at #1 and the top 20 on the Billboard Top Albums Chart. With her chart-topping debut, Daigle was hailed as a break-out artist in Christian music. The album features her hit singles "How Can It Be", "First", and "Trust in You".
In 2018, she released her certified-platinum second album "Look Up Child". The record made significant breakthroughs in Daigle's career. The album featured her RIAA 5x Platinum hit single "You Say" – which spent 132 weeks at the top of the charts, the longest-running one to do so for any genre of weekly Billboard Hot charts. Her other hits and crowd-favorites from the record include "Look Up Child" and "Rescue".
In February of 2021, Lauren released a new song "Hold On to Me", the first of which from her upcoming project. Though there hasn't been any official word of a new album yet, Lauren shared that they'll be performing never-before-performed music at her shows this fall. So, get ready for a night of lifting those praises high with fellow believers and big surprises from the worship leader herself, Lauren Daigle, by booking your tickets now!