St Augustine Amphitheatre | Augustine, Florida
Set to drop a new record later this July, the highly-acclaimed guitarist who's dropped four top-5 albums, three of which hitting #1, Jack White is set to bring his Supply Chain Issues Tour to the stage at St. Augustine Amphitheatre on Monday, 19th of September 2022. The tour is taking the stage in support of his 2022 albums, "Fear of the Dawn" and his upcoming record "Entering Heaven Alive". His new singles right off the shelves are "Taking Me Back", "Hi-De-Ho" featuring Q-Tip, and "What's the Trick?". Don't miss out on one of the greatest guitarists to exist, Jack White's new record coming out on July 22nd, and expect to witness his best hits and fresh new songs live on stage at the Supply Chain Issues Tour. Book those tickets now!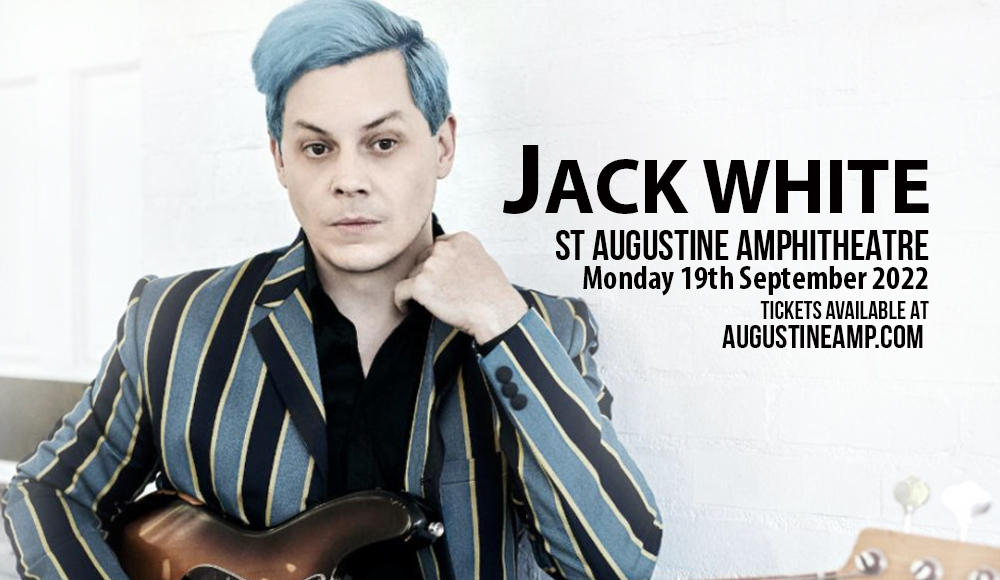 Born John Anthony Gillis hailing from Detroit, Jack White began as a boy playing the drums in 1st grade, finding a kit in an attic. He then learned to play abandoned instruments left by his older brothers who were in a band together. In a 60 Minutes feature in 2005, he shared "I'd got accepted to a seminary in Wisconsin, and I was gonna become a priest, but at the last second I thought, 'I'll just go to public school.' I had just gotten a new amplifier in my bedroom, and I didn't think I was allowed to take it with me."
From then on, the journey of White's musical journey came crashing in. He was part of various bands and projects including The White Stripes, The Raconteurs, and The Dead Weather.
With his massive success with The White Stripes, Jack White took in some solo projects and gigs all throughout the way. In 2012, he released "Love Interruption", the first single off of his self-produced debut solo album "Blunderbuss". The album was a success, debuting at #1 on the Billboard 200 chart. Two years later, he dropped "Lazaretto", his sophomore record with inspiration from plays and poetry dating back to his teenage years. The album was highly acclaimed by critics, bagging three Grammy Award nominations.
In 2018, he released his third album, "Boarding House Reach", featuring his singles "Connected by Love" and "Over and Over and Over". White's notable solo hits throughout his career include "Another Way to Die" with Alicia Keys, "Lazaretto", "Love Interruption", "High Ball Stepper", and "Taking Me Back".
With a new album "Fear of the Dawn" fresh off the shelves, and "Entering Heaven Alive" coming out real soon, Jack White shared that he had "five days with no food" while making his new records.
"I wanted to see what I would write under those conditions, under that idea — being alone and fasting — what my brain and my body would come up with," he shared in an interview with CBC. "Would I get frustrated? Would I get angry? Would I get upset? Would I be depressed? What kind of lyrics would come out?".
"It's an interesting thing I was exploring, and I still explore that — what your body does. The amount of energy your body gets on the second, third day from that is outstanding, It's not to be believed"
You can expect a legendary record when Entering Heaven Alive comes out, completing his 2022 back-to-back album release that took fans by surprise after his last record Boarding House Reach four years prior. It's surely a legendary ride with the one and only Jack White who's won 12 Grammy Awards and ranking #70 on Rolling Stone's "The 100 Greatest Guitarists of All Time" in 2010.
So, mark your calendars as Jack White's "Entering Heaven Alive" is coming out this July 22nd, and the Supply Chain Issues Tour is coming over at St. Augustine Amphitheatre on September 22nd. Save your spot to catch Jack White's big surprises coming by grabbing your tickets now!