St Augustine Amphitheatre | Augustine, Florida
Get ready for the eclectic rock show of the year; its 311 on their Unity tour with New Politics & Passafire!! The trio of bands are coming to take over the St Augustine Amphitheatre on Wednesday 2nd August 2017! It's going to be an incredible night – don't miss out!! Book your tickets NOW while they last and be there early on the day to get the best possible spot!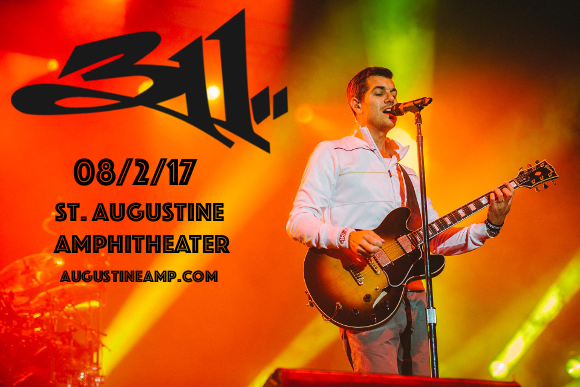 With a name that comes from the Omaha Police Department's code for indecent exposure following the arrest of the band's original guitarist for streaking, it should be no surprise that 311 (three-eleven) are a band that break all the rules! The band incorporate a wide variety of genres into their already mixed-up rap-rock sound, most prominently reggae but also funk and nu metal!!
Throughout the 90s, the band released a stream of albums and singles, gaining a strong underground fanbase before the release of their 1995 self-titled album, (also known as "The Blue Album"). Peaking in the top 20 of the Billboard 200, the album shot the band into massive public prominence and went on to be certified platinum no less than three times!!
Now, the band are on tour in support of their brand-new, yet-to-be-released album, "Mosaic". Listen to the first single, "Too Much To Think," below, and get those tickets NOW to be among the first to hear all the new material live!!