St Augustine Amphitheatre | Augustine, Florida
Calling all fans of Young The Giant – the indie rock group are on the road again in 2019 with their latest awesome album "Mirror Master"!! As if that wasn't enough, they're joined on the road by Fitz and The Tantrums! You don't wanna miss this – get your tickets now and make your way to the St Augustine Amphitheatre on Friday 19th July 2019 for a show that you'll never forget!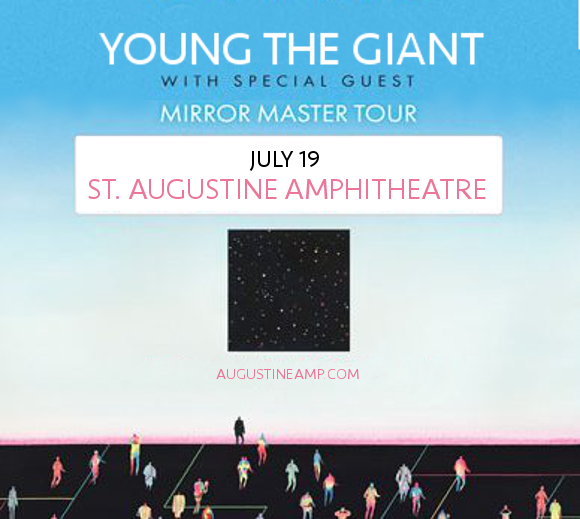 Young The Giant were formed over a decade ago, and a great deal has changed in their music since, all while keeping the same fundamental essence that drew fans to them in the first place. Over the years, Young The Giant have used their unique identity and backdrop to focus on various narrative themes in their work. The latest album, in contrast to their last, which was heavily political, is a deeply personal one, focusing on themes of growth and reflection.
"As individuals and as a band, we've grown up. We were like 19, 20 years old when we were writing," said singer Sameer Gadhia, referring to the progress made by the band both personally and musically since their first album. "It's always a snapshot of who we are as people, where we are as a band. Mind Over Matter was the first time we realized our full audience — we were actually doing this for a living. The third record was wanting to share our story: the immigrant story. We're not just a normal rock band with the same narrative… It's not just where I fit into the world, it's like where I fit into myself."
Are you hyped to see them live?? Then what are you waiting for – grab those tickets while they last!!