St Augustine Amphitheatre | Augustine, Florida
They've come from the land down under and shook the world's pop music scene in the 80s with their signature hits "Jessie's Girl", "Don't Talk To Stranders", "Who Can It Be Now", "Down Under", and many more. Rick Springfield & Men At Work are set to rock concert halls and stages this summer and are bound to conquer the stage of the St Augustine Amphitheatre on Friday 5th August 2022. Rick Springfield & Men At Work are marking the 40th anniversaries of their groundbreaking albums "Working Class Dog" and "Business As Usual", respectively. It's an 80s team-up like no other. Step into the music time machine to bring you and your friends back to party time circa 1981. Tickets are now on sale. Click that 'Get Tickets' link right here, right now!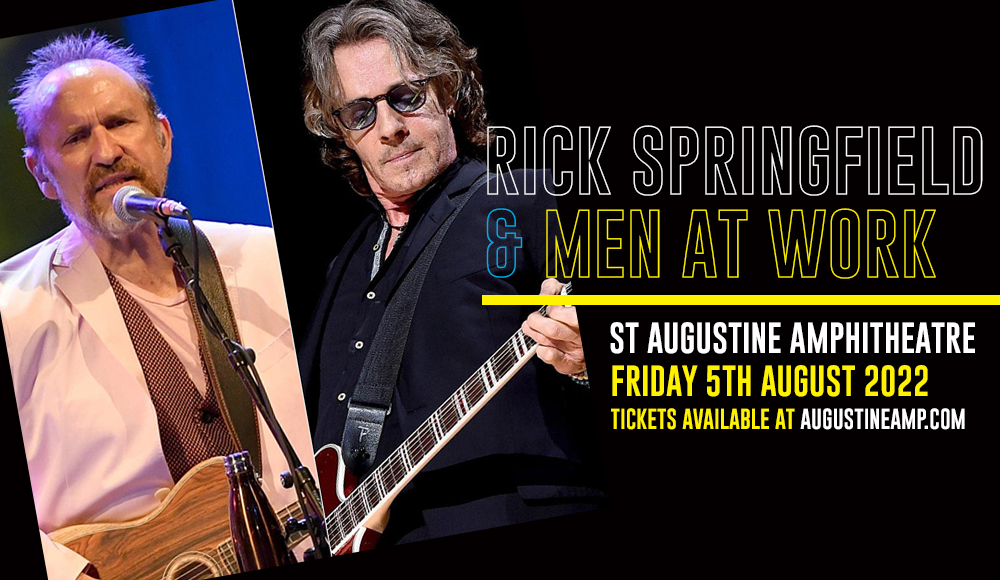 Rick Springfield is that hottie singer, guitar player, and movie and TV actor who regularly graced countless teenybopper magazines in the 80s. A multitude of fans swooned and sang along to his colossal hit "Jessie's Girl" which set charts ablaze and zoomed its way up to number one in the year 1981. It was a worldwide hit that peaked at No. 1 for two weeks in the U.S. on the Hot 100 and the Australian Kent Music Report singles chart, with the album "Working Class Dog" reaching No.7 on the Billboard 200. That same year, Springfield also climbed up the Grammy stage to receive his Grammy Award for Best Male Rock Vocal Performance. He then followed up with four more top 10 U.S. hits: "I've Done Everything for You", "Don't Talk to Strangers", "Affair of the Heart", and "Love Somebody".
Rick Springfield was not only lighting up concert stages, but he also went under klieg lights and lit up tv and movie screens with his distinctive portrayal of Dr. Noah Drake on the daytime drama General Hospital, in 1981–83, 2005–08, and 2012, returning in 2013 for the show's 50th anniversary with his son, actor Liam Springthorpe.
Teaming up with Springfield on this concert tour are the band Men At Work, who rocked their way up to world domination with their best-selling singles s "Dr. Heckyll and Mr. Jive", "Overkill", "It's a Mistake", "Who Can It Be Now", "Down Under" and "Be Good Johnny".
"I'm looking forward to making some loud noises," says Collin Hay, lead vocalist / frontman of Men At Work. "You know, coming out on stage and seeing big crowds and seeing the other bands is always really good. I'm not thinking, "Oh, I've got to do the whole night myself." It's really good.
Springfield says, "We play very loud. No, it's great. It's great to share a bill, because in a way, you're kind of competing. They were great and you want to be at least as good. So it ups your game. Especially if it's guys you like, which we like each other so far. Once we get on the road, that may change completely. But so far, so good."
Check out those tickets right now. Rick Springfield & Men At Work live at the at St Augustine Amphitheatre – don't miss it!