St Augustine Amphitheatre | Augustine, Florida
One of the world's favorite Britpop acts, Louis Tomlinson, just made his big comeback, sharing newfound hope in his sophomore album, "Faith in the Future". The album features his new singles "Bigger Than Me", "Out of My System", and "Silver Tongues". Motivated by embracing hope and finding his musical identity, Louis Tomlinson is geared up to share his new material and fan favorites live on stage at the Faith In The Future World Tour 2023. He's making a special stop at St. Augustine Amphitheatre on Tuesday, 11th of July 2023. As a testimony of his dedication to music, don't miss out on Tomlinson's big new era coming to the live stage by booking your tickets now!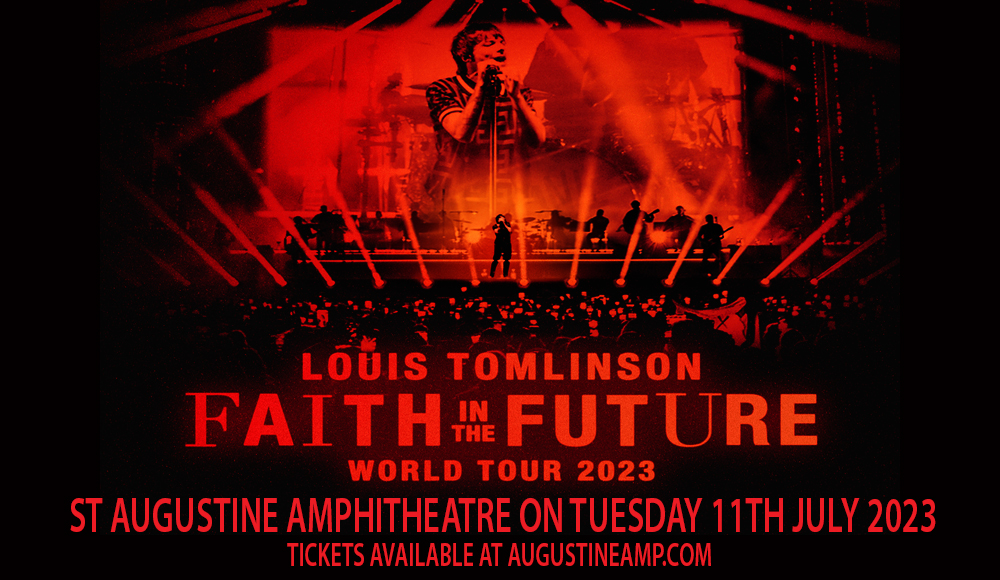 Following the release of his second LP "Faith in the Future", Louis Tomlinson dropped big news of a World Tour in support of his new material. The Faith In The Future World Tour will bring Tomlinson's new craft and crowd favorites back to the live stage across cities around the globe. The former One Direction fan favorite member used to struggle to find his own sound amidst the competitive industry. Growing beyond his struggles, Tomlinson took to heart embracing his passion, crafting his new material the way he wants to.
Faith in the Future features his new singles "Bigger Than Me," "Out of My System", and "Silver Tongues". Looking forward to meeting his fans and performing his new masterpieces, Louis Tomlinson is pumped up to get 2023 on track.
"Really really excited to finally announce the North America tour," he shared on Twitter. "These songs were created for these moments and I can't wait to share them with you!"
Pouring his heart out in his new emotional record, he applies a name of hope, a motivation to lookforward, having 'faith in the future. Embracing his energy, talents, and passions, Faith in the Future is an emotional sonic masterpeuce that encapsulates the dedication that Tomlinson built up since his solo career.
"I just wanted to embrace what I love musically," Tomlinson tells Rolling Stone in an interview. "There's a different kind of love for every song. It's not all trying to be a single."
Dropping his newest single "Silver Tongues" featuring a character of pop-punk influences, he shares that this is the track he's most proud of making. Hopping on a new world tour a few months after he wrapped up his Walls Tour, Tomlinson shares that Faith in the Future is dynamic record compared to that of his first album.
"It's really important to me in the live show, but also in how the tracks are produced as well," he shared in an interview with SiriusXM. "Me and the producers were a little braver on this record."
Tomlinson first gave the world a taste of his new album with its lead single "Bigger Than Me". "It was my first moment of excitement making this record, and where it felt we were on to something which honors the live show," he shared about the track. "I realized from doing those live shows what it means to my fans and how everything I do is bigger than me,"
Over two years since the release of his debut LP, and a new record deal with BMG, Tomlinson hopes to share new music and growth as an artist as the new year comes. Don't miss out on the Faith In The Future World Tour 2023 by booking your tickets now!