St Augustine Amphitheatre | Augustine, Florida
"I love you babe, so bad, so bad, oh" – the boys behind that catchy line we all really loved so bad, LANY, is back on the road stopping by St. Augustine Amphitheatre on Tuesday, 26th October 2021, for a tour in support of their upcoming album, "gg bb xx", following their successful third studio record, "Mama's Boy" that hit #7 on the Billboard Charts and topped the Alternative Charts, and to date, having been streamed over 300 million times! LANY just dropped two new singles, "Dancing in the Kitchen" and "up to me", back with their signature ear candy sound that fans just love. From their 2017 breakthrough with their self-titled record, fans all over the world raved to fan-favorite heartfelt and catchy beats such as the certified-gold single "ILYSB", "Where the Hell Are My Friends", "Good Girls", "Super Far", "Malibu Nights", "Mean It" with Lauv, "Okay" with Julia Michaels, and many more. So, if you find yourself asking, 'where the hell are my friends?!, hit them up, and book your tickets now!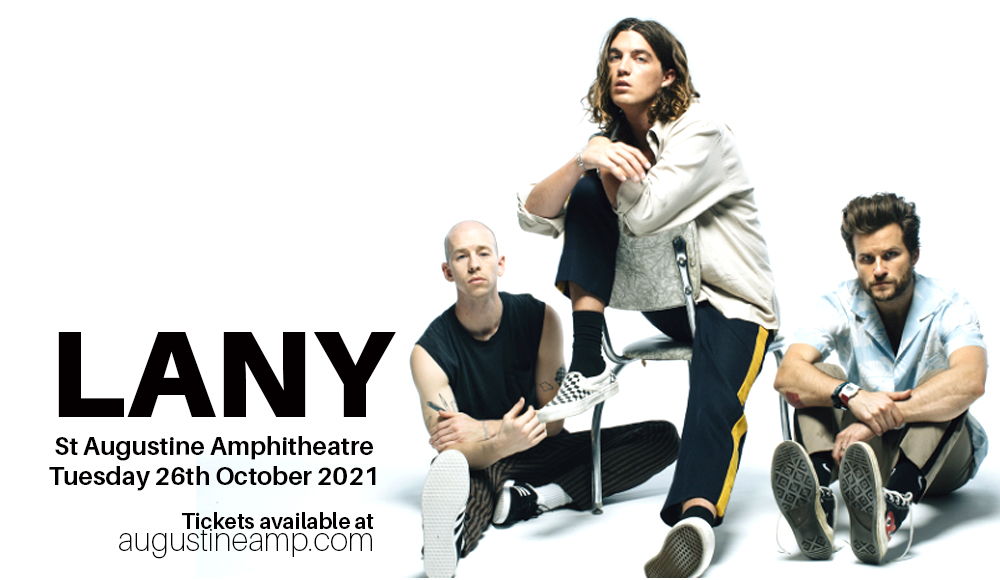 LANY finds its roots in Nashville when front-man, Paul Jason Klein, flew there to meet up with Jake Goss and Les Priest in 2014. They later released their first EP, "Acronyms", with "ILYSB" which generated interest online, along with a couple of tracks. LANY is an acronym settled from a reference to the distance between L.A. and New York as Klein explained in an interview.
Members are Paul Jason Klein on lead vocals, piano, keyboards, and guitar, Jake Clifford Goss on drums, percussion, and sampling pad, and Charles Leslie Priest on keyboards, synthesizers, guitar, and backing vocals. Giuliano Pizzulo joins them as a touring member on keyboards, guitars, and background vocals.
The band has embarked on tours with various acts supporting artists such as Tove Styrke, Twin Shadow, X Ambassadors, Zella Day, Troye Sivan, Halsey, John Mayer, and Ellie Goulding. They also made appearances in a number of festivals. LANY collaborated with Julia Michaels for "Okay", and with Lauv for "Mean It", in 2019. In 2021, they featured in "I Quit Drinking" with Kelsea Ballerini.
With three studio records released namely "LANY", "Malibu Nights" and "Mama's Boy" which all found acclaim and success, and one upcoming album, "gg bb xx", LANY has amassed a following worldwide for their catchy, heartfelt, and ear candy tracks for every mood.
So, 'where the hell are your friends?! Hit them up and tell them that the band we all so 'love so bad is stopping by for a night of fan-favorite bops and new music from their fourth album, gg bb xx as it drops real soon. Book your tickets now!