St Augustine Amphitheatre | Augustine, Florida
The legend gets better and bigger! Singer, songwriter, record producer, actor, film producer, and prodigious piano player John Legend returns to the live concert stage with the second leg of his "Bigger Love Tour". "I cannot wait to come together with you after all this time we've been apart," John says of the tour. "It is a celebration of love, joy, sensuality, hope, and resilience, and I can't wait for all of us to get lifted again with live music." Dates from this tour includes his highly anticipated performance at the St Augustine Amphitheatre on Saturday 9th October 2021. Save room for your friends, family, and loved ones so you can enjoy soul-deep emotive hits. Lock in your tickets now!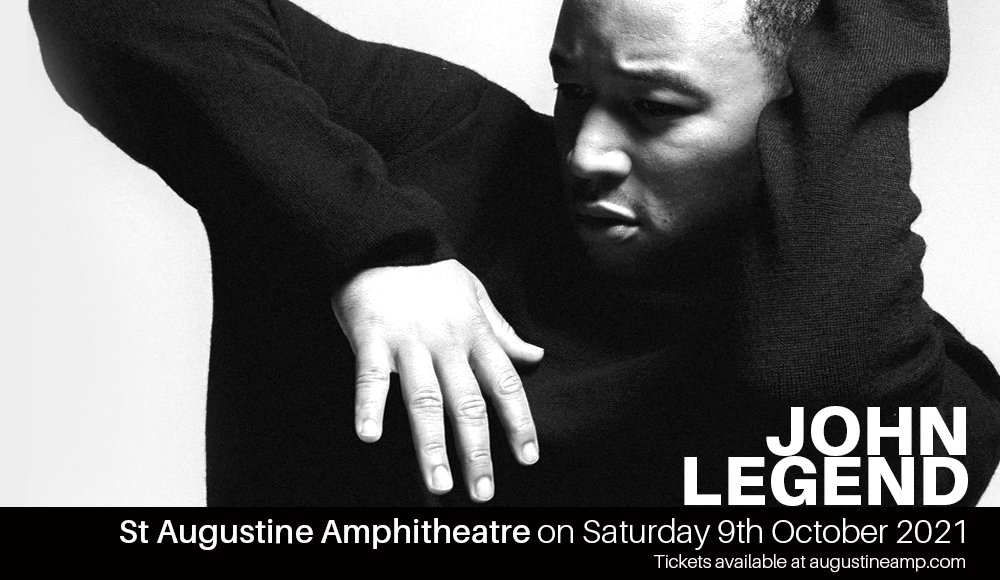 John-Roger Stephens started out as an in-demand studio session artist. One of his notable sessions was with then up-and-coming rap artist Kanye West. Back in 2001, John was hired to give a singing voice to the hooks of West's music. A poet named J. Ivy heard John's voice which he described as an "old-school sound". J. Ivy stated, "I heard your music and it reminds me of that music from the old school. You sound like one of the legends. As a matter of fact, that's what I'm going to call you from now on! I'm going to call you John Legend." And true to his name, his career milestones are nothing short of legendary.
One of John Legend's major breakthroughs was ignited by "All of Me" from his fourth studio album Love in the Future (2013) which hit number one on the Billboard Hot 100 charts. From there, he was reaping awards left and right. He bagged the 2006 Best New Artist at the Grammy Awards and has snagged major Grammy awards like Best Male R&B Vocal Performance for "Ordinary People", Best Male Pop Vocal Performance for "Save Room", Best R&B Song for "Shine"; scooping up a running total of 12 Grammys to date.
In 2018, John Legend produced and starred as Jesus Christ in NBC's adaptation of the rock opera Jesus Christ Superstar, where he received an acting nomination and won a Primetime Emmy Award as producer. He also received an Academy Award for Best Original Song and Golden Globe Award in 2015. And in 2017, Legend scored a Tony Award for co-producing Jitney for the Broadway stage. With all these awards, he is now part of the elite circle to receive an EGOT — Emmy, Grammy, Oscar, and Tony. He is the first black man to receive such honor, the second youngest person, and one of 16 artists to achieve such a milestone.
John Legend is no ordinary artist to reach such stellar status. "I think I'm happier, not just because of winning Grammys and selling records, but because it's really fulfilling to have all these things happen with something you love to do. To have the chance to see your music be elevated and to have almost universally positive response to that music, makes me feel better every day. I feel more confident and inspired, and that's fun. I'm feeling truly creative and I'm hoping that feeling will stay around, because my hope and belief is that most people are down to grow and explore with me." Words spoken of a true legend…
Book your tickets now to catch John Legend "Bigger Love Tour"!