St Augustine Amphitheatre | Augustine, Florida
The sensational star behind melancholy pop hits "Maniac" and "Heather", Conan Gray, is set to take on a new era as his second studio record "Superache" is right around the corner. Along with his new album, Conan's set to kick off his new fall tour dates, with a stop at St. Augustine Amphitheatre on Sunday, September 18th, 2022. After giving fans a taste of his new era with "Jigsaw", "Memories", and "Yours", Gray's sophomore record is finally coming out real soon. Don't miss out on Conan Gray's biggest hits, crowd favorite pop heart-wrenchers, and fresh new tracks off of "Superache" live on stage by grabbing your tickets right now!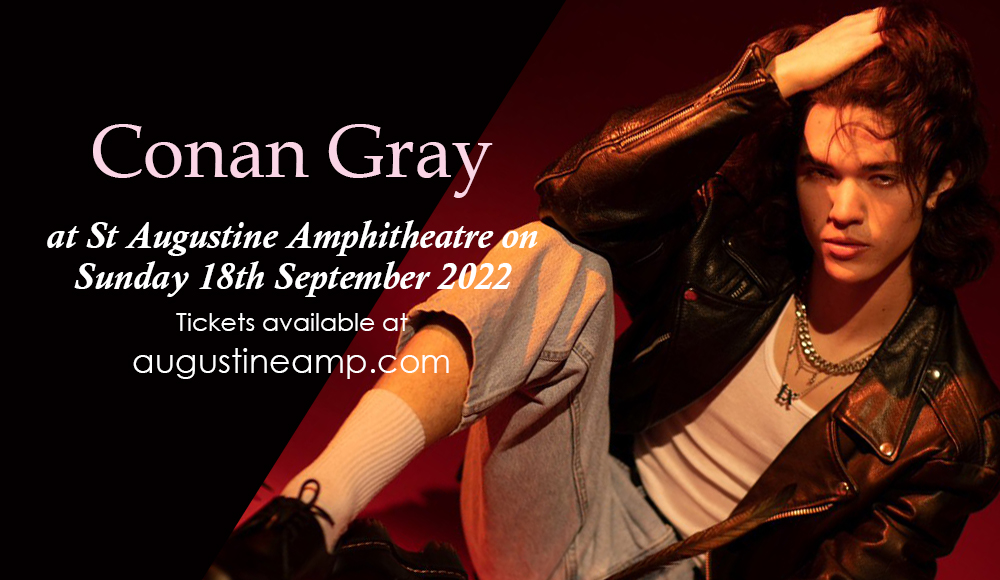 Known by the world for his heart-wrenching and relatable hit "Heather", Conan Gray soon became a nameplate as one of pop's next big thing, in a world of love songs and heartbreak. With life challenges along the way growing up, Conan found his escape – music.
Though singing confessional lyrics about wrecking someone's car, or wishing his crush's apple of the eye were dead, Conan Gray's music became that space for listeners to acknowledge pain and true feelings. In an interview with TexasMonthly, Gray says "Writing music is horribly painful, I think people are generally pretty dismissive of having big emotions, especially as a kid. But I've always been this way. I had a lot to get off my chest at twelve years old. Writing music was the most normal way for me to express it."
Back in high school, Gray started posting videos on YouTube at age fifteen. From baking and everyday life scenes, he also started posting covers and early original songs to his channel. His channel served as a journal of his life amidst pain – with one thing standing out, Music.
In March of 2017, Gray dropped his debut single "Idle Town", gaining fourteen million streams on Spotify and over twelve million YouTube views. A year later in 2018, he released his five-track debut EP "Sunset Season" which includes his debut single "Idle Town", "Generation Why", "Crush Culture", "Greek God", and "Lookalike". He started growing an audience as the record charted at #2 on the Billboard Heatseekers Albums chart and an appearance on the Billboard 200.
At the onset of 2020, Conan started hinting about his debut album, "Kid Krow". As he revealed his big announcement, he shared "I say more on this album than I've ever said in my life, and I can't wait to tell you all of my secrets. Love y'all." At the time, his 2019 single "Maniac" started to gain attention, becoming a mainstream radio hit bagging Platinum certification by the RIAA and ARIA in the US and Australia respectively.
In March of 2020, "Kid Krow" was finally released, debuting at #5 on the Billboard 200, making a mark as the biggest debut of a new artist as of March 2020, and the top pop solo debut album since Camila Cabello's 2018 record. In August of the same year, the album's final single "Heather" made rounds on TikTok, giving Gray his first entry on the Hot 100, also charting in the Top 40 of other countries including the UK, New Zealand, and Australia. In October, he released a new single "Fake" with Lauv.
With a big commercial debut era singing tracks that listeners across the globe relate to, making them want to scream out the pain through Gray's confessional lyrics, Conan Gray has become one of this generation's most influential pop artists.
With his sophomore album "Superache" coming out on June 24th, fans are itching to hear new material to scream, cry, and shed a tear to. With singles "Astronomy", "Jigsaw", "Memories", and "Yours" giving fans a taste of the new record's theme, Gray's new era is soon coming to life on tour after the big release of Superache on June 24th.
"Touring is the moment where it becomes this massively healing process where I take these emotions that are so personal and so painful, and then I get to look out into a crowd of people who are furiously screaming every single word back to me." Gray told TexasMonthly.
With Superache right around the corner, don't miss out on Conan Gray's big return to the live stage bringing along his hits, fan favorites, and fresh new tracks to scream and cry to at St Augustine Amphitheatre on September 18th. Book your tickets now!