St Augustine Amphitheatre | Augustine, Florida
Everyone's snapping up tickets for this one and when you here who's coming to St Augustine this spring – you'll see why – the one and only A Day To Remember and Papa Roach will be rocking the stage Amphitheatre on Tuesday 20th March 2018! This is a fierce line up that will blow you away with two incredible hard hitting sets from 2 of the biggest bands – there's no doubt that this is the place to be!
The trendsetters Papa Roach are a must see and along with A Day to Remember, there's no time to waist! Click the button above to get your tickets today!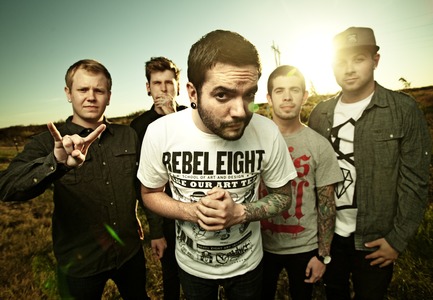 Since their very beginning all the way back in the early 2000's A Day to Remember have been filling out auditoriums where ever they travel to, not just in the US but around the globe.
Founded in the spring of 2003, these guys well and truly quickly became a major hit on the local pop punk scene in Florida and quickly spread to close by areas and now are one of the biggest in the world. A Day to Remember are; vocalist Jeremy McKinnon, rhythm guitarist Neil Westfall, bassist Joshua Woodard, percussion and drummer Alex Shelnutt and lead guitarist Kevin Skaff.
It's been an unstoppable ride for the often touring band, A Day to Remember kick started their career and have been making albums together ever since. With a sign to Indianola Records and their sheer dedication for wanting to spread their music to their fans, they have smashed out six studio albums, that have gained nothing but praise… these are including the likes of; For Those Who Have Heart (2007), Homesick (2009), What Separates Me from You (2010), Bad Vibrations (2016). And the list of albums are continuously growing as A Day to Remember don't stop or give up. With their successful releases they have toured with some of the biggest names in the history of Rock. And with their ever growing status they are now headline material – selling out shows. Bringing both new and old material as they embark across North America on their Spring 2018 tour!
Are you ready?! Grab your tickets today as they continue their touring status with fellow act Papa Roach – it's about to kick off!!