St Augustine Amphitheatre | Augustine, Florida
Bored? Watch a concert! We've been at home for quite a while the past year, yet one thing that's always been with us is music. As Wallows sang "Cause we could stay home and watch the sunset" from their hit single "Are You Bored Yet" ft. Cairo, it's finally time to get out and watch them live on stage after the sunset at St. Augustine Amphitheatre on Friday, 27th May 2022 for their 'Tell Me That It's Over Tour'. The wait is indeed over, as stages come back to life bringing live music. Tune in to Wallows' new single "I Don't Want to Talk", as you get ready to vibe and sing along to your favorite tracks such as "Pleaser", "Sun Tan", "OK", and "Are You Bored Yet", live on stage. Book your tickets now!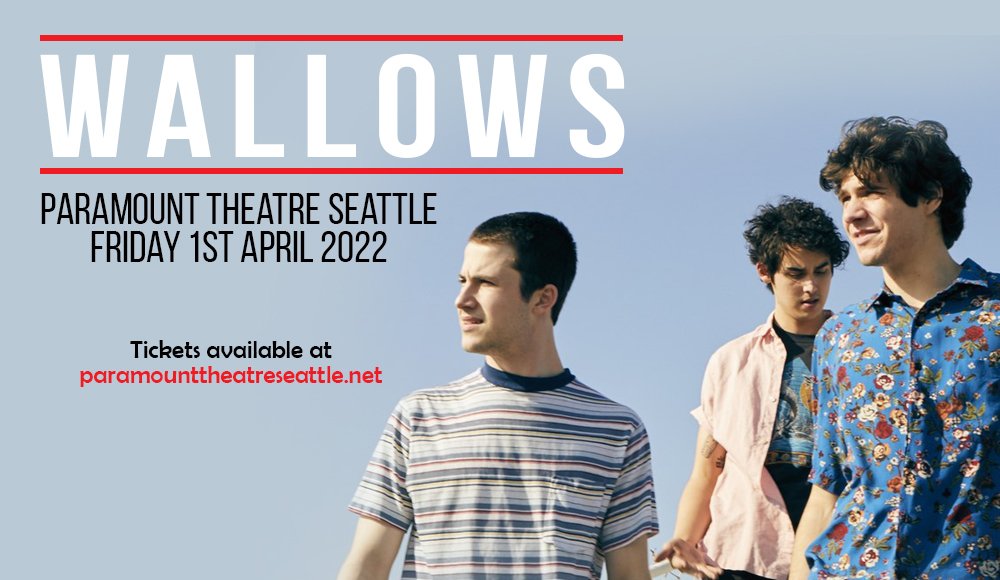 Band members Braeden Lemasters and Dylan Minnette met Cole Preston at a music program in LA called "Join the Band" back in 2011. They played in the 2011 Warped Tour as "Feaver", then became "The Narwhals", then finally taking identity as "Wallows" by 2017, releasing their first single "Pleaser". They released their debut EP "Spring" featuring the singles "Pictures of Girls" and "These Days" in 2018.
Their 2019 single "Are You Bored Yet" rose to success a year later with Minnette saying "We've obviously seen the streaming numbers go up exponentially this year, and that has blown our minds" about its success in 2020 then saying "We just can't wait to get back out into the world as a band in the public eye… I think that would be particularly eye-opening" as he talks about actually seeing the crows and their love for the track. "Are You Bored Yet" is Wallows' certified platinum hit single.
After dropping a deluxe edition of their "Remote" EP earlier this year, the band released their latest single "I Don't Want to Talk", "a song about insecurities.. the fear of being away from someone for too long… and not wanting to talk about it all", Minnette explained.
If you're bored, Wallows' indie-pop, alternative rock, and surf punk tunes won't disappoint at all. Fans rave their infectious tunes, melodies, and beats, and they just can't get enough.
"There's nothing like performing to an audience full of people, and giving that energy… I can't wait to see everyone's faces again. I hope they still want to when this is all said and done. We're ready!" says Dylan in a Billboard interview when asked about what they miss the most about a live audience.
Wallows is ready, and hope that their fans are too! Enough with the talking; it's time to sing! Sing along and meet Wallows live on stage. Book your tickets now!