St Augustine Amphitheatre | Augustine, Florida
The best of times are here again! Classic American rock band Styx is letting the good times roll with their ongoing tour in support of their latest album 'Crash of the Crown'. Truly legends to the core, Styx has recently marked their 50th anniversary, and are showing no signs of slowing down. The band will not only give their fans the best of times but more eminently, the best of hits. From the anthemic "The Best of Times", the futuristic "Mr. Roboto", to the power ballads "Babe" and "Lady", Styx is a raging current of rock and lush, orchestral sound that not only brings tinges of nostalgia but continuously brings endless joy to their legions of fans. The most rabid Styx fans are reputed to camp out for tickets, but now all you have to do is click on that 'Get Tickets' sign up on this site to lock it in and save your seat to the best concert time you'll ever experience. Book your tickets now!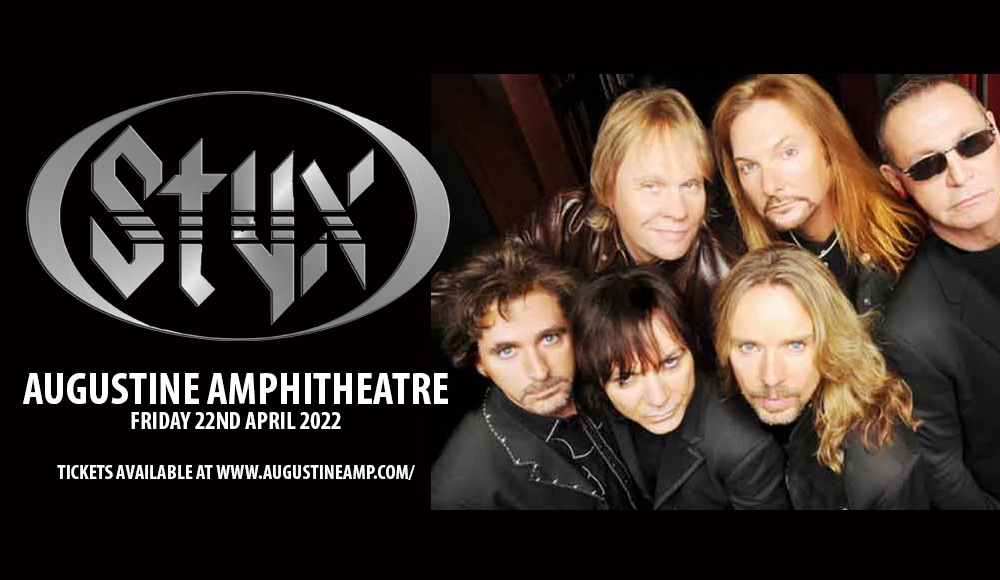 American rock band Styx was formed in Chicago, Illinois way back in 1972. They were a band that could be said to be way ahead of their time or the music landscape at that time. They are loosely categorized as a progressive rock band, as they are best known for melding hard rock guitar, synthesizers, and acoustic piano, pumping it up with upbeat tracks, infusing passion through power ballads, and incorporating elements of international musical theatre.
Love 'em or hate 'em, Styx was the first band in history to have four consecutive albums go platinum, which is achieving a minimum of two million copies sold apiece. This amazing breakthrough in their career came via the album "The Grand Illusion" (1977), which peaked at No. 6 in both the US and Canada, and became the first of four straight triple-platinum albums in the US for Styx. The band's vast catalog includes eight singles that hit the top 10 on the Billboard Hot 100 list, including "Come Sail Away" and "Lady"; while 16 of their songs made it to the top 40. Styx has sold over 54 million records to their name.
Styx has not rested on their laurel of hit songs, so to speak. After spending quite some time touring on the merits of classic rock nostalgia, they experience a creative resurgence with the release of their 2017 album "The Mission", following it up this year with "Crash of The Crown".
Whether you're in for the nostalgia or just starting to wade through the deep rivers of music of Styx, experiencing them live onstage will give you nothing but the best of times. Hurry, get your tickets now!