St Augustine Amphitheatre | Augustine, Florida
What do you get when you combine three classic rock legends with one of the most celebrated rock singers in history? You get Sammy Hagar and the Circle! The unprecedented supergroup will make a rare appearance this fall in St. Augustine, Florida, and that means you better get ready to score yourself some tickets! Sammy Hagar brings his all-star line-up, comprising original Van Halen bassist Michael Anthony, critically-acclaimed drummer Jason Bonham, and renowned guitarist Vic Johnson, to a one-night rock and roll spectacle at the St. Augustine Amphitheatre! On Thursday, 26th October 2023, rock fans can look forward to a plethora of hits from their studio efforts, Space Between, Lockdown 2020, and their latest release, Crazy Times! The quartet has been known to deliver an amazing high-energy each time they go on stage. After all, when you have two Rock and Roll Hall of Famers in the line-up, you'll get some epic performances! If you love rock music, you better hurry and secure tickets to see Sammy Hagar and the Circle light up the St Augustine Amphitheatre!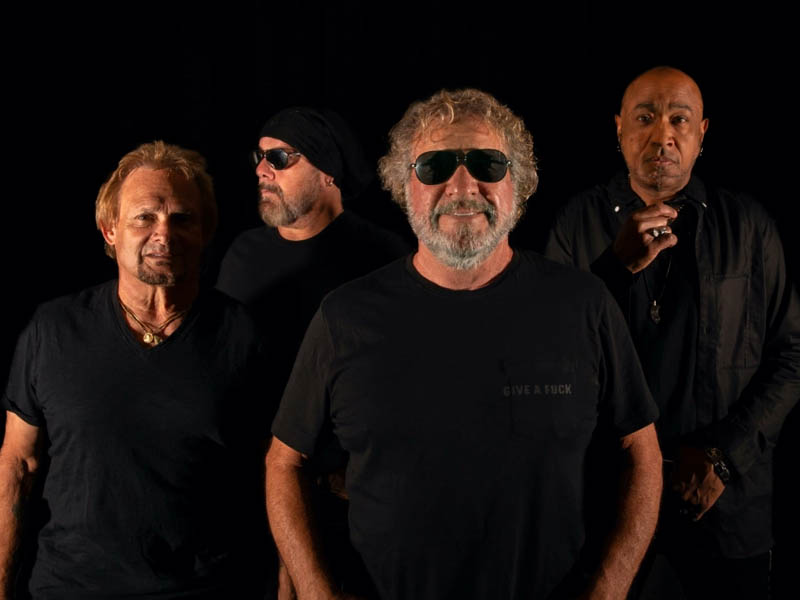 The celebrated singer-songwriter and musician Sammy Hagar knows what's up when it comes to delivering an epic rock show. The former Van Halen singer has had a phenomenal solo career. Moreover, some could say that he has the Midas touch when it comes to his numerous projects. Hagar has helped bring together several supergroups, including Chicken Foot, Sammy Hagar, and the Circle.
His outstanding voice has made him an in-demand performer during his early days. He served two years singing for the cover band Montrose. Shortly after departing the group, he pursued his solo career during the '70s. He released several chart-performing efforts, including his debut album Nine on a Ten Scale, his self-titled sophomore effort, Musical Charis, and Street Machine. By the '80s, Hagar began gaining momentum with his career-defining 1982 efforts, Standing Hampton and Three Lock Box.
In 1984, Hagar's exemplary voice secured him the lead singer role for the legendary hard rock band Van Halen. That same year, he released a collaboration album with Neal Schon, Kenny Aaronson, and Michael Shrieve. The album, titled Through the Fire, performed moderately well on the Billboard 200, peaking at number 42. Two years later, Van Halen released 5150, their first of four albums with Hagar. The record became the band's second top-selling album, with over 15 million copies worldwide, six million of which were sold in the U.S. After the exceptional success with 5150, Hagar released three more albums, OU812, For Unlawful Carnal Knowledge, and Balance, with Van Halen – all of which topped the Billboard 200.
While singing for Van Halen, Hagar continued to work on his solo career. In 1987, he released his highest-charting effort as a solo artist. His ninth studio album, I Never Said Goodbye, peaked at number 14 on the Billboard 200 and sold over 500,000 copies in the U.S. The album's personnel notably included Eddie Van Halen on guitars.
In 2014, Hagar started working with Vic Johnson. Together they released an album titled Lite Roast. The acoustic effort comprises unplugged versions of Hagar's previous hits and covers, including "Finish What Ya Started," "Eagles Fly," "Dreams," and "Red Voodoo," among others. After recruiting two more band members, the duo formed Sammy Hagar and the Circle. The quartet dropped their debut album, Space Between, which peaked a number 4 on the Billboard 200. Last year, the group released their latest album, Crazy Times, spawning singles "Pump It Up," "Funky Feng Shui," and the title track.
See Sammy Hagar and the Circle at the St Augustine Amphitheatre this fall by clicking on the Get Tickets link!