St Augustine Amphitheatre | Augustine, Florida
America's soulful folk-rock act is back in the game! Nathaniel Rateliff and his band, The Night Sweats are back together on a tour, in support of their newest album "The Future". As 2022 marks the huge return of live shows across the country, Nathaniel Rateliff and The Night Sweats are definitely taking on a future where no one misses out on the band's signature soul-induced folk-rock anthems live on stage. Catch them perform their biggest hits including "I Need Never Get Old" and "S.O.B.", and fresh new tracks off of their latest record including "Survivor" and "Face Down In The Moment". It's all happening at St. Augustine Amphitheatre on Tuesday, 21st of June 2022. Book those tickets now!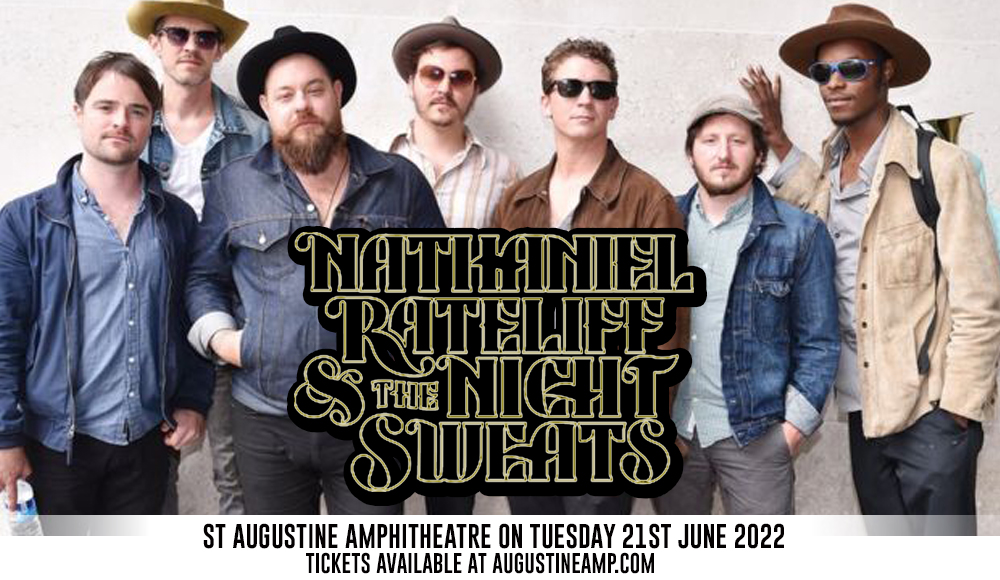 As a self-taught guitar player and songwriter in his early teens born in Missouri, Nathaniel Rateliff moved to Denver at 18 and started a career in making music. Early into his venture in the music scene, Rateliff formed and partnered with bands, whilst also crafting his solo effort. By 2013, he partnered with his long-time collaborator, Joseph Pope III, with Mark Shusterman on keyboards, Patrick Meese on drums, Luke Mossman hopping in as their guitar player, Wesley Watkins on trumpets, and Andy Wild on the saxophone. Altogether, they became known as Nathaniel Rateliff and The Night Sweats.
With their union, they produced their first RIAA Platinum hit single "S.O.B." off of their debut self-titled album as a band to which Los Angeles Times imparted as "an album Rateliff made as a last-ditch effort before throwing in the towel on his music career, only to see it go viral and turn into a runaway hit."
From then on, Nathaniel Rateliff and The Night Sweats continued to make waves as a crowd-favorite folk-rock act across the country with succeeding hits and crowd favorites including "You Worry Me", "Say It Louder", "Wasting Time", and "Survivor". Their 2018 record "Tearing at the Seams" soared to #11 at the Billboard 200 charts, with its lead single, "You Worry Me", enkindling a message of hope.
Last 2021, Nathaniel Rateliff and The Night Sweats dropped their third studio album, "The Future", where Rolling Stone describes the album as "full of well-turned retro moves and reaches for a deeper meaning". The record's singles include "Face Down In The Moment", "What If I", "Love Don't", and "Survivor".
Catch Nathaniel Rateliff and The Night Sweats lead you on a night of your favorite anthems, their biggest hits, and new music off of "The Future" live on stage at St. Augustine Amphitheater. Don't miss out on this special night, so book your tickets now!