St Augustine Amphitheatre | Augustine, Florida
St Augustine Amphitheatre presents Jason Isbell on Saturday 22nd July 2017 and it's going to blow you away! Pulling out all the stops, Jason Isbell knows how to make a crowd go wild, with a phenomenal, unforgettable live show of country, Americana and bluegrass like you've never seen before! If THAT'S not entertainment, we don't know what is! Tickets are on sale now – get yours fast, before they sell out!!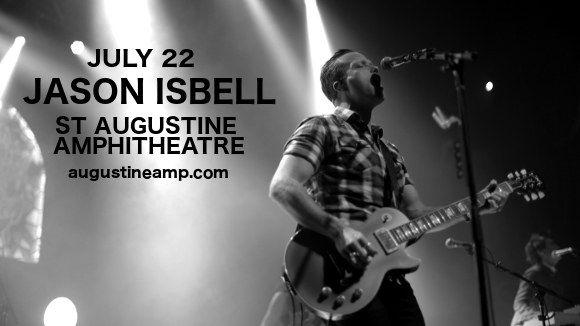 Raised in rural Green Hill, Alabama, Jason Isbell's parents were 17 and 19 years old when he was born, leading him to be raised a lot of the time by his grandparents while his parents were at work. His family were very musical, meeting every week, sometimes more, to sing together and play musical instruments. Jason Isbell was taught mandolin – an instrument he as a 6 year old was capable of holding – by his grandfather and uncle, and as he grew older, a variety of other instruments as well. In school, he played the French horn and the trumpet, and sang in his church choir. It's no wonder that with all this musical influence around him he was certain that was what he needed to do for a living!
In 2001, at the age of 22, he joined the Drive-by Truckers, who he worked with until 2007, when he left to pursue a successful solo career. After the release of several solo albums and another few albums with his band the 400 Unit, Isbell is now on tour with his highly anticipated new release, "The Nashville Sound". Be among the first to hear it live – get your tickets to see Jason Isbell TODAY!!