St Augustine Amphitheatre | Augustine, Florida
Is the day-to-day grind getting you down? Escape it all and treat yourself with tickets to the show of the year: "Better Together singer-songwriter Jack Johnson LIVE at St Augustine Amphitheatre on Monday 2nd October 2017! On tour with his upcoming new album "All The Light Above It Too". Get your Jack Johnson tickets today and get ready for a stunning live performance!!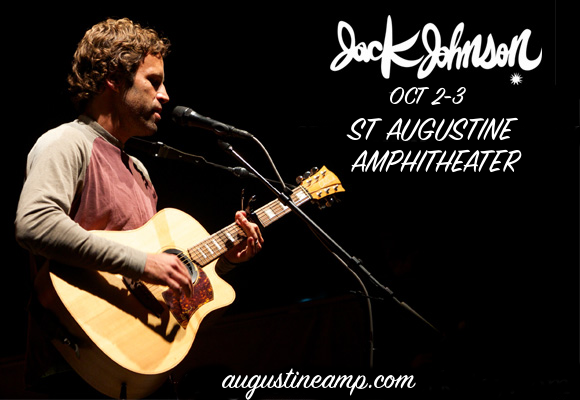 Usually accompanied by a band, for his 2017 release Johnson is favouring a sound focused on the core, most important elements of the music, and is playing the majority of the instruments on the album himself. "All The Light Above It Too," marks a return to the elegant simplicity that gained Johnson so much worldwide adoration in the first place.
"It's cruise control when you've got a really good rhythm section," Johnson explained, regarding the writing of the new album; "'Cause they always make you sound good. I'll start layering things a lot, then listen back, think, 'I sound like an amateur,' pull it back off. The songs end up really stripped down."
Be among the first to hear all the fresh new material live – book your tickets to see Jack Johnson NOW while they last!!