St Augustine Amphitheatre | Augustine, Florida
Where can a Foreigner feel right at home? Nowhere else but on the live concert stage! World-renowned arena rock band Foreigner will venture out into the vast concert landscape for their 121-Date World Tour. Thank your lucky stars as part of their itinerary is a stop here at the St Augustine Amphitheatre on Wednesday 9th March 2022. This classic rock band shot up to fame with their massively popular hit singles "I Want to Know What Love Is" and "Waiting for a Girl Like You". Despite the numerous member changes, with Mick Jones as the sole original member performing on the upcoming Foreigner tour, the Foreigner fan base is rock solid and is always on the prowl to score tickets. No need to search far and wide for tickets. Click on that 'Get Tickets' link right here, right now!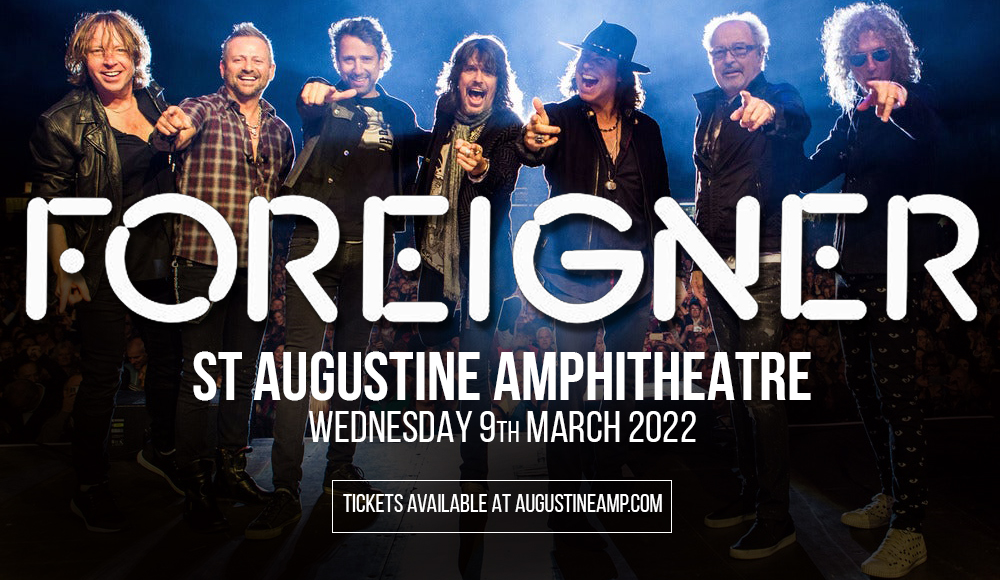 Foreigner traces its roots back in New York City, 1976, when veteran British guitarist and songwriter Mick Jones and fellow Briton and ex-King Crimson member Ian McDonald, along with American vocalist Lou Gramm, got together as a band and named themselves Foreigner. The 1977 self-titled debut album set the wheels in motion for the band as their singles from this album, "Feels Like the First Time" and "Cold as Ice" zoomed their way up to Top 10 positions in the charts, with the album peaking at No. 4 on the US album chart and in the Top 10 in Canada and Australia. And with their careers and popularity running at such speeds, the band was destined for world domination.
"Foreigner" was just the first of four straight albums to be certified at least 5x platinum in the US. With a career spanning and running for more than 40 years, the band has sold more than 80 million records and is considered one of the world's best-selling bands of all time. Despite numerous member line-up changes over the years, Foreigner has maintained their ferocious rock concert energy onstage and fans could not stop singing their anthemic hits like "I Want to Know What Love Is", "Waiting for a Girl Like You", "Feels Like the First Time", "Juke Box Hero", "Cold As Ice", and many more. Hence, the band definitely feels most at home and is at their best on tour and on the live concert stage.
"Live music is at the heart of what we do and I'm thrilled to be back on the road and visiting so many places over the next year," guitarist Mick Jones said in a statement. "Looking forward to seeing you all out there."
Current vocalist Kelly Hansen shares the same enthusiasm on finally going live and on tour. "I am so looking forward to getting our feet back on stage and the crowd in front of us. …I have read and heard so much about how people want to get back to live music. It's such a part of the fabric of who we are and we can't wait to get out there and reclaim this piece of our lives. Can't wait to rock it out!"
Tickets — that's your passport to this nostalgic rock trip you've been fervently looking forward to. Book your tickets now!