St. Augustine Amphitheatre | St. Augustine, Florida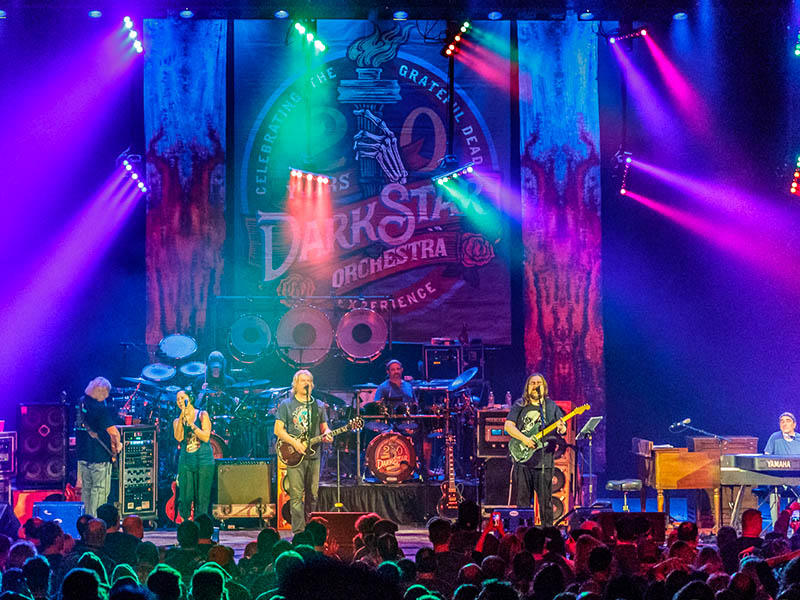 Nothing is more incredible than spending your fall season entertained by the legacy of the world's most groundbreaking jam band, Grateful Dead! And delivering fans the fantastic music will be the celebrated Grateful Dead cover band, the Dark Star Orchestra! Since 1997, the Chicago-born septet has helped keep the music of the Dead alive, and this 2023, they're set to conquer the nation with a massive fall tour! Deadheads can rejoice as Dark Star Orchestra embarks on a 21-date trek, which includes a coveted stop in St. Augustine, Florida! On Saturday, 9th December 2023, Floridian deadheads can look forward to a fantastic night of unprecedented hits, on-stage improvisations, and extended jams at the St Augustine Amphitheatre! In true Grateful Dead tradition, Dark Star Orchestra has been known to display clever phrasing, ingenious arrangements and even replicating the rig used by Grateful Dead members during notable eras. You can experience it all by securing tickets to see Dark Star Orchestra at the St Augustine Amphitheatre! Click on the Get Tickets link now!
One thing that all Deadheads are looking for in a tribute band is that they should be Grateful Dead-approved. Fortunately, Dark Star Orchestra's two-decade tenure as an improvisational rock band has made them more than worthy of performing the music. Moreover, Grateful Dead members themselves - like Bob Weir, Bill Kreuztmann, and Phil Lesh – have at some point joined Dark Star Orchestra (DSO) on stage. Former Grateful Dead members like Donna Jean Godchaux, Tom Constanten, and Vince Welnick have also performed with DSO in the past.
This 2023, the band is ecstatic to announce another major headlining tour. They took to their website to express their excitement. "We are thrilled to return to many of our favorite stomping grounds and to explore some new venues for the first time!" This December, the band will be making their phenomenal return to the St. Augustine Amphitheatre. The last time DSO graced the stage of this iconic venue was in March 2019. The setlist featured several excellent staples, such as "China Cat Sunflower," "Cumberland Blues," "Morning Dew," "Dancing in the Street," and many more.
There is no clue yet what fans can expect from Dark Star Orchestra's setlist at the upcoming show on December 9th, but knowing DSO's stellar reputation in delivering Grateful Dead hits. It's highly likely to blow the fans away. As of the summer of 2023, DSO has performed a total of over 3,000 shows.
Formed in 1997, Dark Satar Orchestra was a project led by guitarist John Kadlecik and keyboardist Scott Larned. Over the years, the band had several changes in the line-up but core members Rob Eaton, Rob Barraco, Dino English, Kevin Rosen, Lisa Mackey, and Rob Koritz have kept the band going for over two decades after the other original members left. The band has been joined by many notable musicians, including Phish's Mike Gordon and Jon Fishman, who jammed with them during a show in 1998.
Last year, Dark Star Orchestra celebrated its 25th anniversary with a massive tour. If you couldn't catch them on last year's run or just want to see them again this 2023, you better quickly score your tickets now to Dark Star Orchestra's show at the St Augustine Amphitheatre! Access to the performance on Saturday, 9th December 2023, are now available!