St. Augustine Amphitheatre | St. Augustine, Florida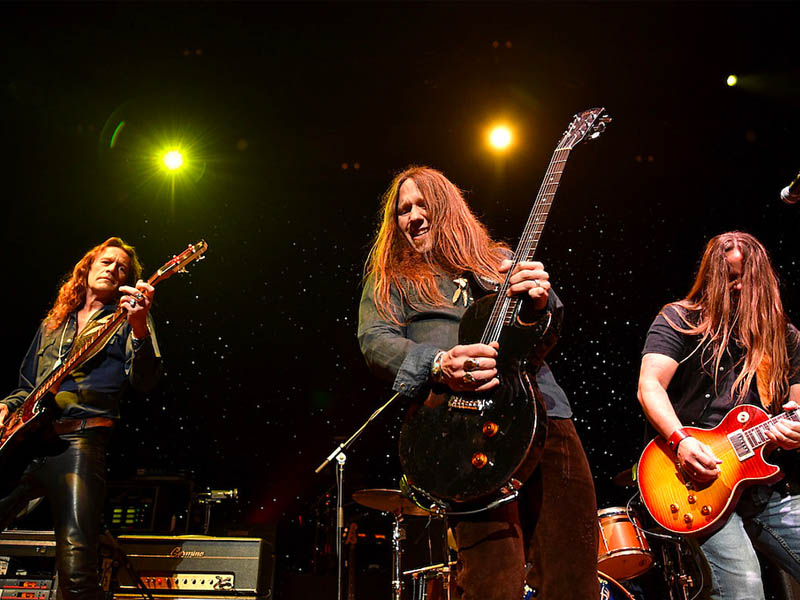 They spent the better part of the summer touring across Europe. However, this upcoming fall season, it's North America's turn to witness an amazing series of Blackberry Smoke performances! The Atlanta-born outfit just released their string of dates that will jumpstart in September! The fall outing comprises 29 cities, including a highly-coveted stop in St. Augustine, Florida! Fans can anticipate a plethora of Southern rock staples from Blackberry Smoke's career-spanning catalog! See the chart-topping band in thier element by catching their exhilarating performance at the St. Augustine Amphitheatre on Friday, 10th November 2023! The setlist is guaranteed to cover countless hits from their two-decades worth of music! Watch out for iconic staples, such as "One Horse Town," "Waiting for the Thunder," "Good One Comin' On," "Ain't Much Left of Me," and many more! If you're keen on experiencing great live music this fall, you better score tickets to see Blackberry Smoke at the St. Augustine Amphitheatre!
In 2021, Blackberry Smoke just released their third number 1 album. Their seventh studio effort, You Hear Georgie topped Billboard's U.S. Americana chart, in addition to peaking at number 5 on the Top Country Albums and number 55 on the Billboard 200. This 2023, fans who will see the band perform live can look forward to a hefty amount of songs from the record. The album spawned several hits, including "Hey Delilah," "Ain't the Same," "All Rise Again," and the phenomenal title track. Besides new songs, audiences can also anticipate a diversified setlist packed with songs from their earlier releases.
Blackberry Smoke made their breakthrough in 2012 upon releasing their third studio album, The Whippoorwill. The album went to number 8 on Billboard's Top Country Albums and entered Billboard 200's Top 50. The album featured some of the Blackberry Smoke's biggest hits, "Ain't Much Left of Me" and "Good One Comin' One." The band's setlist will not be complete without belting out these breakout staples. This summer, Blackberry Smoke treated fans to an extensive performance in Tennessee. The setlist comprised over 20 songs and included hits, such as Like An Arrow's "Waiting for Thunder" and Let It Burn," Holding All the Roses' "Rock and Roll Again," and Find A Light's "Runaway From It All."
The band also treated fans to some cover songs, such as Lynyrd Skynyrd's "Restless" and The George Satellites' "Another Chance." However, fans can anticipate Blackberry Smoke to change it up this fall as they deliver another season of shows across North America. After their breakout album, the band released follow-up efforts Holding All the Roses and Like an Arrow. Both records hit the number 1 spot on Billboard's Top Country Albums, as well as entered several other charts.
If you want to see Blackberry Smoke in a top-notched venue this fall, you should catch them at the St. Augustine Amphitheater on Friday, 10th November 2023. The 4,000-seater venue is located at the Anastasia State Park. Its vast concert grounds provide attendees with plenty of space to move around and enjoy the music and Florida's weather. The venue is also equipped with complete facilities, providing guests with the utmost comfort and a hassle-free night out.
See Blackberry Smoke light up the St. Augustine Amphitheatre on Friday, 10th November 2023, by scoring your tickets now!