St Augustine Amphitheatre | Augustine, Florida
One of America's brightest stars is back, bringing color to the stage at St. Augustine Amphitheatre on Wednesday, 4th of May 2022. He is no other than, Adam Lambert. The American Idol season 8 star is finally taking on 2022 more powerful than ever with live shows back on track. Adam has sold over three million albums and five million singles across the globe. His dynamic vocals has soared through hit singles and fan-favorite tracks including "Ghost Town", "For Your Entertainment", "Whataya Want from Me", and his most recent 2020 single "Velvet". Don't miss out on a night of glitter, fun, and soaring vocals led by the one and only Adam Lambert. Book your tickets now!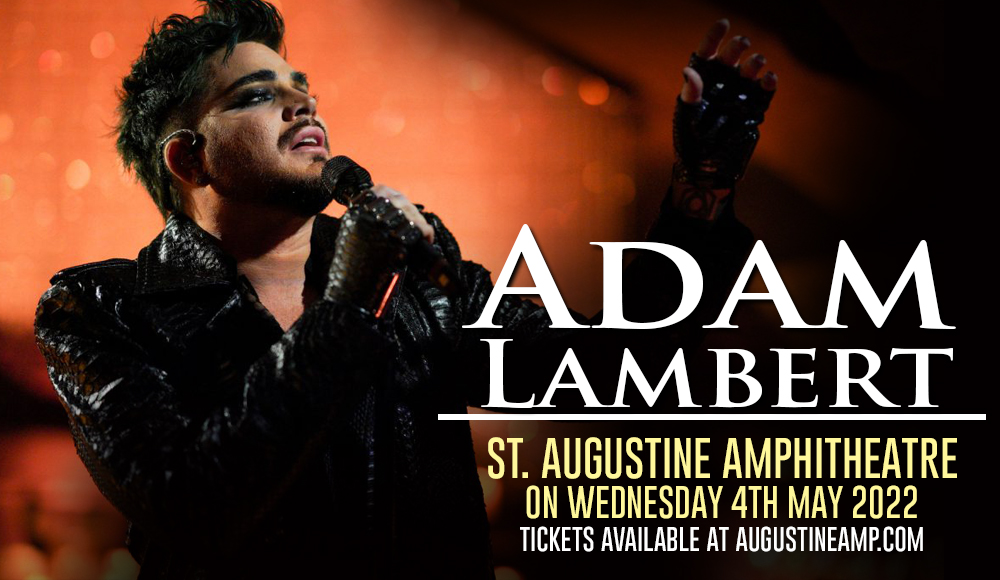 The American Idol star from 2009 is known for his dynamic theatrical vocals and his dazzling aura that sparkles all throughout his career. It all started when he was 19, with performing at a cruise ship as his first job. He was then cast for various musicals, and at the same time took gigs as a demo singer and session musician, where a compilation of his work from 2005 appeared in 2009's album "Take One".
By 2009, his appearance in American Idol's 8th season marked the start of a journey full of glitter and gold. From singing "Rock with You" and "Bohemian Rhapsody" in his auditions to memorable live performances of Michael Jackson's "Black or White" and Tears For Fears' "Mad World", and selling out over three million records across the globe.
His debut album, For Your Entertainment, was a massive success, hitting #3 on the Billboard 200 on its first week, featuring its global hit single "Whataya Want from Me". He was also nominated for a Grammy Award for Best Male Pop Vocal Performance.
Adam has also collaborated and performed alongside queen, having gone on several shows and tours together.
His succeeding records "Trespassing", "The Original High", and 2020's "Velvet" continued to serve hits, and dazzle fans' ears with his captivating signature vocals through tracks like "Never Close Our Eyes", "New Eyes", and "Ghost Town".
As Lambert made electrifying waves in the music scene, some people have questioned the "gayness" of his image, though that didn't stop the one and only Adam Lambert from shining brighter, becoming one of People Magazine's Most Beautiful People 2010, and Barbara Walters' 10 Most Fascinating People of 2009. To this day, Adam continues to contribute and help LGBT causes and advocacies.
As live music marks its return this 2022, Adam Lambert is here to bring color, magic, and soaring vocals to the stage. It's always an electrifying and awe-inspiring show with Adam Lambert. Book your tickets now!