St Augustine Amphitheatre | Augustine, Florida
Get ready for one of the most unique acts of the decade; viral sensation 2Cellos are on tour promoting their brand new album, "SCORE"! The formidable duo will rock the St Augustine Amphitheatre stage on the Saturday 23rd September 2017! Get ready for an unforgettable night – book your tickets NOW to be sure of your place!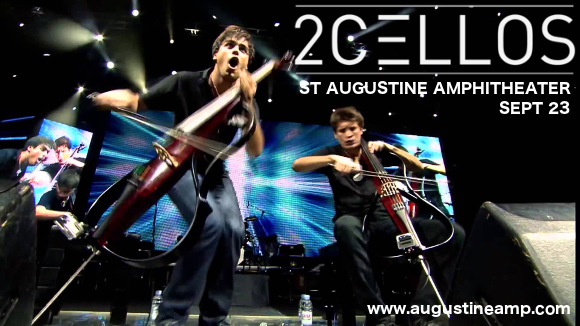 The duo is formed of classically trained cellists Luka Šulić and Stjepan Hauser. Meeting at a masterclass while in their teens, the two started playing music together, then departed to finish their music education in various locations including Vienna and London. When they reunited, they were struggling financially despite musical success in the UK. On suggestion from a friend that they try breaking into the pop market, performed a cover of Michael Jackson's "Smooth Criminal". It was an instant viral hit, with over 3 million views in its first two weeks!!
The band were promptly signed to Sony Masterworks, and released their debut album in 2010, containing covers from a diverse selection of bands including Sting, Coldplay, U2, Nirvana, Muse, and Nine Inch Nails! The duo went on tour with Elton John in 2011, bringing them even greater attention and leading to their going on to perform at massive events including the Queen's Diamond Jubilee Concert at Buckingham Palace. Since then their success has been unparalleled! To date, they have released four albums, including their most recent, the much-anticipated "SCORE".
Known for their high-intensity live performances, 2Cellos promise a show you simply can't afford to miss!!